Vblock Systems

The World's Most Advanced Converged Infrastructure

Flash Optimized
VCE offers a broad portfolio of flash-optimized Vblock® Systems to simplify the path to an all-flash, modern data center.
One Call Support
VCE™ Support ensures quick, coordinated support as needed, with a single call to VCE. An integrated support portfolio enhances the value of your Vblock System, helps you maintain the highest availability and enhance team productivity, and ensures proactive identification and resolution of any issues with a single call to VCE.
Unmatched Scale
VCE Vscale™ Architecture delivers ultimate agility, simplicity, assurance of adapting to the varying applications, scale, and flexibility needs for customers' diverse operational models.
Vblock Systems from VCE simplify all aspects of IT and enable organizations to achieve better business outcomes faster. Seamlessly integrating best-in-class compute, network, and storage technologies from industry leaders Cisco, EMC, and VMware, Vblock Systems provide dynamic pools of resources that can be intelligently provisioned and managed to address changing demands and rapidly shifting business opportunities.
Trusted by over 1,500 businesses and enterprise organizations around the globe, the market-leading VCE Vblock Systems portfolio offers unmatched choice, flexibility, and reliability for transforming IT and accelerating operations to cloud speed.
With the addition of EMC industry-leading all-flash storage platforms-Unity, XtremIO, and VMAX All Flash-VCE provides multiple options to deploy all-flash converged systems for mixed-workload consolidation and applications that require extreme performance and scale.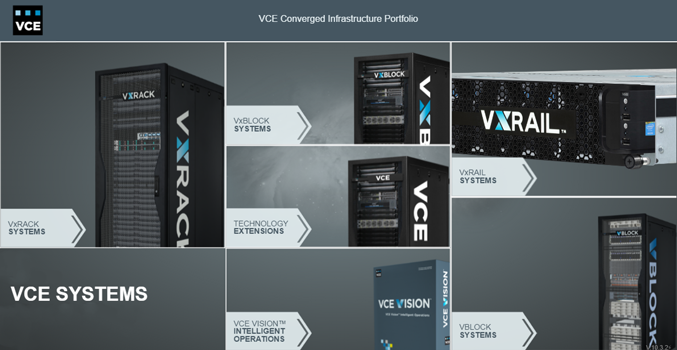 The Vblock System 200 Series offers mid-sized organizations a highly efficient virtualized infrastructure to run their entire business with plenty of room for expansion.
Enables the substantial scale needed for large virtualization and cloud implementations. The Vblock System 300 Series is built to support mission-critical enterprise applications
The Vblock System 500 Series is the first all-flash converged infrastructure, ideal for applications that demand the highest throughput at the lowest latency, such as online transaction processing (OLTP) and online analytical processing (OLAP).
The Vblock System 700 Series is our flagship converged infrastructure for enterprise scale mission-critical applications and mixed workloads. Reliably runs thousands of virtual machines and desktops supporting mission-critical applications on SAP, Oracle, Microsoft Exchange, Microsoft SharePoint, VDI and more.
Deliver the right level of protection for each application with VCE Integrated Data Protection for Vblock Systems. These pre-validated, factory-integrated systems provide a more cost-effective, simpler data integrity approach backed by full support for the entire infrastructure, including your choice of data protection options: Data Domain and Avamar for daily backups and compliance archiving, RecoverPoint for replication, or VPLEX for business continuity and mobility.