VNXe3200 with Data Domain DD2200

Enterprise-class capabilities at an affordable price.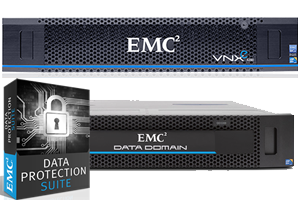 Sorry, this product is no longer available, Please contact us for a replacement.
Overview:
Bring simple, efficient primary storage and data protection to your small to midsize business with the EMC VNXe3200 with Data Domain DD2200 bundled solution. Enterprise-class capabilities are yours at an affordable price.
EMC VNXe3200 with Data Domain DD2200 includes:
Primary storage: EMC VNXe3200 with 36 TB raw capacity, 9 x 4 TB x 7.2K NL-SAS drives
Protection storage: EMC Data Domain DD2200 supporting 4.7 TB/hr throughput
Protection software: EMC Data Protection Suite
EMC VNXe3200 data storage is EMC's most affordable, unified hybrid storage array. Start with a general-purpose HDD array that includes thin provisioning, file dedupe, unified snapshots, and more. Upgrade to hybrid data storage with FAST Suite for mixed, virtualized, or high-performance workloads.
EMC Data Domain DD2200 deduplication storage enables you to consolidate backup, archive, and disaster recovery. Its high-speed, inline deduplication reduces data protection storage requirements by 10 to 30x.
EMC Data Protection Suite enables fast and efficient movement and management of data between primary and protection storage. Managing your backup, archive, or both is easier and more reliable.
Features:
VNXe3200 Hardware Essentials
The new VNXe3200 is the most affordable unified hybrid array.
Simple
Setup NAS or SAN in minutes with new Unisphere wizards
Tight VMware and Microsoft application integration
Integrated service ecosystem for remote monitoring and repair
Efficient
Automated set and forget tuning with FAST
Reduce capacity requirements by up to 50% with thin provisioning and file deduplication
Flash optimized MCx multicore
Protected
Appsync TM simple, SLA driven protection
Basic and advanced protection options including snapshots, native Remote Protection and RecoverPoint
VSPEX proven architectures integrate the new VNXe3200 & Data Domain DD2200
All flash
Unified; Multi-protocol
Up to 75K IOPS performance
Affordable price, Low $/GB
DD2200 Hardware Essentials:
High-Speed, Scalable Deduplication
Up to 58.7 TB/hr performance
Reduces requirements for backup storage by 10 to 30x and archive storage by up to 5x
CPU-centric scalability
Data Invulnerability Architecture
Inline write/read verification, continuous fault detection
Dual disk parity RAID 6
Seamless Integration
Supports leading enterprise backup and archive applications
Backup and Archive Consolidation
Efficiently protect backup and/or archive data
Meets governance policies and compliance regulations for archive data
Cloud-Enabled
Simple and efficient long-term retention to a public, private or hybrid cloud
Secure multi-tenancy provides logical isolation of user data
Fast and Efficient Disaster Recovery
Reduce bandwidth requirements by up to 99%
Operational Simplicity
Lower administrative costs
Reduced footprint DD VE
Software-defined protection storage
ROBO & Entry use cases
VNXe3200 Hardware:
The Most Affordable Hybrid Storage
The newest member of the EMC® VNXe® Series is the most affordable unified hybrid array out there - and it's also the most capable. The new VNXe3200™ has the power of EMC's VNX2 unified storage systems - compressed into an efficient, easy-to-use package designed for resource-constrained IT departments in any size company.
The VNXe3200 adds powerful features which were only available on higher end VNX models including FAST™ VP auto-tiering, FAST Cache SSD caching, Fibre Channel host connectivity, and MCx™ multicore optimization. The new multicore enhancements alongside a beefed up quad core 2.2 GHz processor delivers up to 3X the performance compared to the previous generation VNXe3150 - supporting over 200 VM's, 2500 Exchange users, or 600 Virtual Desktops in a very small space.
The hybrid VNXe3200™ storage system retains the affordability, simplicity, and efficiency that VNXe systems are known for - including Unisphere™ awardwinning simplicity, unified connectivity, and EMC's next generation support services - to deliver an incredible value in entry-level storage.
Hybrid For Mixed Workloads
Industry analysts report that the most economical way to deploy high speed flash drive technology is in hybrid or multitier storage arrays combining lowcost, high-capacity hard disk drives (HDDs) with a small amount of highperformance solid-state drives (SSDs) to deliver low storage cost per I/O. Hybrid arrays have the intelligence to detect hot spots and balance workloads from SSD to HDD as required.
Common use cases include:
Applications -Microsoft Exchange, SQL, SharePoint, Oracle
Private Cloud - VMware® ESX® or Microsoft Hyper-V virtual machines
Virtual Desktops and Home Directories
Simple. Efficient. Protected.
The VNXe3200 can be setup for NAS or SAN in minutes and is designed to integrate directly into your application and virtualization environments. It stores and protects your data while lowering your total costs in terms of $/IOPS and $/GB. The VNXe3200 was also designed for 99.999% availability utilizing dual controllers, flexible RAID options, and non-disruptive upgrades.
Simple
The VNXe3200 was designed with ease of use in mind.
You can setup DAS or NAS or SAN in less than 15 minutes with the new VNXe Configuration Wizard. With the free add-on EMC Storage Integrator for Windows you can provision storage for Microsoft applications in minutes not hours. Unisphere Central can be used for more advanced multisite deployments of mixed VNXe and VNX's.
Now, you can easily deploy an automated private cloud with deep VMware and Microsoft integration. The VNX family has the best virtualization integration with over 96 integration points into both VMware and Hyper-V. For three years in a row, an independent research firm Wikibon named EMC VNX and VNXe the #1 storage for VMware integration.
The improved, integrated service ecosystem includes EMC Secure Remote Support (ESRS) for remote monitoring and repair capabilities as well as dial home and remote chat.
Efficient
The VNXe3200 also has leading edge efficiency features which lower the overall cost of the system.
You can boost performance while lowering costs using our hybrid array powered by EMC's FAST Suite. FAST will use SSD first and then put colder data on high capacity HDDs. FAST is automated for set it and forget it tuning.
Reduce capacity requirements by up to 50% with thin provisioning and file dedupe. In the past, you had to make a trade-off between performance and efficiency features. Combined with the FAST suite, you can deploy thinly provisioning LUN's and filesystems without performance degradation.
This system does a lot in a densely packed space. With a flash optimized architecture, MCx, 48GB RAM, and support for SSD's and HDD's, you can store up to 200 VM's in 4U.
Protected
The system delivers the right combination of built-in and add-on EMC software capabilities to support your recovery SLAs.
Unified Snapshots and Remote Protection provide array-based data protection and disaster recovery.
With AppSyncTM protect all of your critical applications in a single click, dial in the correct service level and enable application owners to drive protection.
RecoverPoint provides local and remote Continuous Data Protection for recovery to any point in time. You can replicate with RecoverPoint to both VNXe and VNX systems with automatic sync options and choice for RPO's.
You can use VSPEX® proven architectures (available from partners) to purchase a holistic (server, network, storage) architecture that integrates the new VNXe3200 & Data Domain2200 backup appliance.
VNXe3200: Most Affordable Unified All Flash Array
The VNXe3200 is EMC's most affordable unified, hybrid storage array and has earned the recognition for its leading simplicity and efficiency in entry-level storage. However, recognizing that sustained and predictable performance can also be a requirement in this segment for certain workloads, the VNXe3200 Unified All Flash Array is positioned to address this performance need. Offered in 2TB, 3TB, 4TB and 8TB slim 2U form factor configurations, the all flash VNXe3200 maintains its full enterprise feature-set, management simplicity, and Connect Proactive Support capability while providing a real price/performance alternative in the entry all-flash segment.
Powerful
Using its MCx multicore optimization features, the VNXe3200 Unified All Flash Array is poised to support hundreds of VMs on a single system while delivering predictable performance of up to 84K IOPS (4TB) that can turbo-charge a variety of virtualized application, database, and transactional NAS workloads.
Affordable
The VNXe3200 is available in 2TB, 3TB, 4TB and 8TB configurations. Each is aggressively priced that help customers reduce $/IOPS and $/GB making it the most affordable Unified All Flash Array in the entry all-flash segment. The starting price for the VNXe3200 Unified All Flash Array is competitive compared to similar offerings in the entry all-flash market.
Unified
VNXe3200 Unified All Flash Array integrates SAN and NAS into one system - delivering both file and block storage in a single array while supporting multiple storage protocols (CIFS, NFS, iSCSI, FC). In the case of the VNXe3200 Unified All Flash Array, you always have the flexibility to add more flash to the system or convert it to a hybrid flash array to deliver the performance of Flash with the cost of Disk.
VNXe Software - Your Advantage
IT environments everywhere are constantly under pressure to improve productivity while meeting service levels and keeping costs down. Whether managing one or multiple sites, simple and efficient delivery of storage services for the IT ecosystem ensures the business is optimizing virtualized applications, improving utilization and ensuring valuable data is protected and secure. VNXe supports tight integration with VMware to further facilitate efficient management of virtualized environments.
Every VNXe unified storage platform comes with base software solutions, including EMC Unisphere for application-aware management, file deduplication with compression for increased efficiency, thin provisioning for adding storage on-demand, as well as CIFS, NFS, iSCSI, and FC. The VNXe3200 now includes snapshots for local data protection without additional licensing charges.
VNXe3200
Description
VNXe Base Software

VNXe Operating Environment
Unisphere Web-based Management Interface
Integrated Online Support Ecosystem
Protocols: file (NFS, CIFS, SMB3) or block (iSCSI or FC)
Unisphere Central (multi-system, multi-site)
FAST Suite

FAST VP - autotiering for reduced cost, higher performance
FAST Cache - SSD as extended cache for 3X boost

Monitoring & Reporting (performance tools)
Unified Snapshots (file and block)
Remote Protection - Native asynchronous block replication
File Deduplication & Compression
Thin Provisioning
Event Enabler (common Anti-Virus)
File Level Retention
EMC Secure Report Support (ESRS)

EMC Storage Analytics

Powerful reporting and analytics tools for VMware
vRealize™ Operations Manager, EMC Adapter for VNXe

RecoverPoint Advanced Protection

RecoverPoint/EX Local
RecoverPoint/EX Remote licenses
Note: RecoverPoint Virtual Appliance (vRPA) is added by default at no additional cost and the physical RecoverPoint Appliance is an add-on option (chargeable)

AppSync Copy Management

Fast copy and rapid restores of VMware, Exchange, SQL, SharePoint, oracle and more
Recommended Optional Software:
PowerPath®: intelligent multipathing and load balancing for physical and virtual environments. Licensed separately.
EMC Storage Integrator for Microsoft: Provision storage for Windows, Exchange, and SharePoint 4 times faster. Free download from support.emc.com
Virtual Storage Integrator (VSI): Let VMware admins manage VNXe storage from within vCenter. Free download from support.emc.com
AppSyncTM: Fast copy and rapid restores of VMware, Exchange, SQL, SharePoint, Oracle and more
Comprehensive Online Support
A click on the VNXe support tab puts a world of resources at your fingertips. Download documentation or plugins, read online knowledge base articles, and watch how-to videos. Get answers faster than ever before with the integrated online support forum and live-chat capability. The system also includes the same dial-home capabilities as the VNX Series products. You can even order new drives and check licensing status from the interface.
The VNXe3200 includes a standard three-year Basic warranty, with next business day parts replacement and 5x9 remote support. An optional Enhanced warranty providing next business day onsite support and 24x7 remote support. Premium warranty upgrade options with four-hour onsite response as well as post-warranty maintenance support are also available.
EMC Data Domain Operating System:
Powering EMC Protection Storage
The Data Domain Operating System (DD OS) is the intelligence that powers EMC Data Domain. It provides the agility, security and reliability that enables the Data Domain platform to deliver scalable, high-speed, and cloud-enabled protection storage for backup, archive and disaster recovery.
High-speed Scalable Deduplication
The Data Domain Operating System powers Data Domain to deliver industry- leading speed and efficiency with throughput up to 58.7 TB/hour, enabling more backups to complete sooner and reducing pressure on backup windows. DD OS employs variablelength deduplication to minimize disk requirements and ensure data lands on disk already deduplicated. This reduces backup and archive storage requirements by an average of 10 to 30x, making disk a cost-effective alternative to tape. Data on disk is available online and onsite for longer retention periods and restores and retrievals become fast and reliable. This efficiency enables Data Domain to protect up to 86.4 PB of data on a single system. With deduplication, months of retention on disk is possible using the same number of "floor tiles" that traditionally provided only a couple of days of disk staging.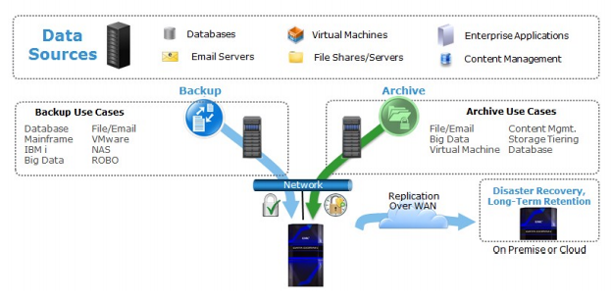 EMC Data Domain Operating System powers EMC Data Domain to deduplicate data during either the backup process or archive process, which maximizes performance while minimizing disk storage requirements. Deduplicated data can be stored onsite for immediate restores and longerterm retention on disk. The deduplicated data can also be replicated over the WAN to a remote site or a service provider site in the cloud for disaster recovery operations, eliminating the need for tape-based backups, or for consolidating tape backups to a central location. Data Domain provides the capability to consolidate both backup and archive data on the same infrastructure allowing greater consolidation by eliminating silos of backup and archive storage and associated overhead.
The key that enables DD OS to provide industry-leading performance while minimizing disk requirements is the EMC Data Domain Stream-Informed Segment Layout (SISLTM) scaling architecture. Specifically, SISL leverages the continued advancement of CPU performance to continuously increase Data Domain system performance by minimizing disk accesses required to deduplicate data. SISL deduplicates data by identifying duplicate data segments in memory, which minimizes disk usage. This enables Data Domain throughput to be CPU-centric, not "spindle bound."
Data Invulnerability Architecture
Data Domain is designed as the storage of last resort - built to ensure you can reliably recover your data with confidence. The EMC Data Domain Data Invulnerability Architecture is built into DD OS to provide the industry's best defense against data integrity issues. Inline write and read verification protects against and automatically recovers from data integrity issues during data ingest and retrieval.
Capturing and correcting I/O errors inline during the backup process eliminates the need to repeat backup jobs, ensuring backups complete on time and satisfy servicelevel agreements. In addition, unlike other enterprise arrays or file systems, continuous fault detection and self-healing ensures data remains recoverable throughout its lifecycle on Data Domain.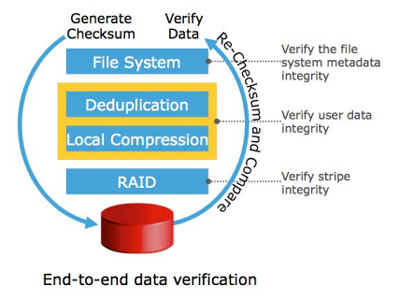 End-to-end data verification reads data after it is written and compares it to what was sent to disk, proving that it is reachable through the file system to disk and that the data is not corrupted. Specifically, when the Data Domain Operating System receives a write request from backup software, it computes a checksum over the data. After analyzing the data for redundancy, it stores the new data segments and all of the checksums. After all the data is written to disk, the Data Domain Operating System verifies that it can read the entire file from the disk platter and through the Data Domain, and that the checksums of the data read back match the checksums of the written data. This confirms the data is correct and recoverable from every level of the system.
Performance and Capacity
| | DD VE* | DD2200 | DD2500 | DD4200 | DD4500 | DD7200 | DD9500 |
| --- | --- | --- | --- | --- | --- | --- | --- |
| Maximum Throughput | 1.85 TB/hr | 3.8 TB/hr | 5.6 TB/hr | 10.6 TB/hr | 10.6 TB/hr | 12.6 TB/hr | 27.7 TB/hr |
| Maximum Throughput (DD Boost) | 4.2 TB/hr | 4.7 TB/hr | 13.4 TB/hr | 25.6 TB/hr | 25.6 TB/hr | 28.3 TB/hr | 58.7 TB/hr |
| Logical Capacity | Up to 800 TB | 40 - 860 TB | 1.3 - 6.6 PB | 1.8 - 9.4 PB | 2.8 - 14.2 PB | 4.2 -21.4 PB | 8.6 - 43.2 PB |
| Logical Capacity w/ DD Extended Retention | - | - | - | 3.7 - 18.9 PB | 5.7 - 28.5 PB | 8.5 - 42.8 PB | 17.2-86.4 PB |
Seamless Integration
Data Domain integrates easily with existing infrastructures and can be used seamlessly with leading backup and archiving applications. Integrating a Data Domain system into your environment does not require any change in process or infrastructure, so you can realize the value of deduplication quickly and efficiently. In addition, Data Domain can integrate directly with leading enterprise applications such as Oracle RMAN or write directly over CIFS or NFS to support a variety of workloads
Since Data Domain simultaneously support multiple access methods including NFS, CIFS, VTL, NDMP and EMC Data Domain BoostTM all applications and utilities can be supported in the same Data Domain system at the same time to enable greater protection storage consolidation. A system can present itself as a file server, offering NFS, CIFS access over Ethernet; as a virtual tape library (VTL) over Fibre Channel; as an NDMP tape server over Ethernet; or as a disk target using application specific interfaces like Data Domain Boost.
Backup And Archive Consolidation
The flexibility of DD OS enables Data Domain to be the only protection storage to simultaneously support backup and archive data. This enables Data Domain to reduce overall total cost of ownership (TCO) by sharing resources across backup and archive data. Specifically, a single Data Domain can be used for backup and recovery of the entire enterprise (including Oracle, SAP, Microsoft, and VMware®, as well as IBM i and mainframe environments) as well as protecting archive data (including file, email, enterprise content management, database and Virtual Machine archiving). Data Domain cost-effectively protects archive data through integration with industryleading archiving applications including EMC SourceOne and Symantec Enterprise Vault. By consolidating to a common protection storage platform, you can eliminate silos of storage and associated overhead - including management, floor space, power and cooling. In addition, with EMC Data Domain Retention Lock software, Data Domain systems can meet internal governance policies or compliance regulations for archive data including SEC 17a-4(f).
Cloud-enabled
With Data Domain Cloud Tier, DD OS can natively tier data to a public, private or hybrid cloud for long-term retention. Only unique data is sent directly from Data Domain to the cloud and data lands on the cloud object storage already deduplicated. With deduplication ratios of 10 - 30x, storage footprint is greatly reduced lowering overall TCO. DD Cloud Tier can scale up to 2x the max capacity of the active tier enabling up to 51 PB of logical capacity to be protection in the cloud. With DD Encryption, data in the cloud remains secure. A broad ecosystem of backup and enterprise applications and a variety of public and private clouds are supported with DD Cloud Tier including EMC Elastic Cloud Storage (ECS) and Virtustream Storage Cloud.
DD OS also provides secure multi-tenancy, which enables large enterprises and service providers to deliver data protection as a service with Data Domain in a private or hybrid cloud. With secure multi-tenancy, Data Domain will logically isolate tenant data, ensuring that each tenant's data is only visible and accessible to them. Secure multi-tenancy allows for tenant self-service by allowing tenants visibility only to the resources they are privileged to and catering to their needs for monitoring their resources. Physical capacity measurement allows you to capture how much physical capacity is being consumed at a file, directory, MTree, tenant, or tenant-unit level. This serves as an effective mechanism for managing shared Data Domain protection storage capacity between individual departments or tenants.
Fast, Efficient And Scalable Disaster Recovery
As data lands on Data Domain, it can immediately begin replicating it to a disaster recovery site. To meet strict DR requirements, EMC Data Domain Replicator software can replicate at 52 TB/hr over a 10 Gb network connection. DD OS replicates only unique compressed data across the network, requiring a fraction of the time, bandwidth and cost of traditional replication methods. With cross-site deduplication only unique data is transferred across any of the WAN segments. This can reduce WAN bandwidth requirements up to 99%, making network-based replication fast, reliable and cost-effective. For the highest level of security, data being replicated between Data Domain instances can be encrypted using the standard Secure Socket Layer (SSL) protocol. Data Domain provides flexible replication topologies including full system mirroring, bi-directional, many-to-one, one-to-many, and cascaded. In a many- to-one deployment, data from up to 540 remote offices can be replicated to a single DD9500.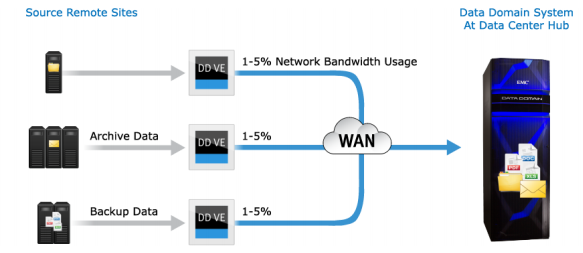 Operational Simplicity
Data Domain is very simple to install and manage resulting in lower administrative and operational costs. Administrators can access the Data Domain Operating System through command line over SSH or through EMC Data Domain System Manager, a browser-based graphical user interface. Initial configuration and updates can easily be made for multiple Data Domain systems, along with the monitoring of system states and operations. Simple scriptability as well as SNMP monitoring provides additional management flexibility.
In addition, Data Domain has an automatic call-home system reporting called autosupports, which provides email notification of complete system status to EMC support and a selected list of administrators. This non-intrusive alerting and data collection capability enables proactive support and service without administrator intervention, further simplifying ongoing management.
Data Domain Virtual Edition
Data Domain Virtual Edition (DD VE) leverages the power of DD OS to deliver software-defined protection storage. DD VE is fast and simple to download, deploy and configure - and can be up and running in minutes. DD VE runs in VMware on vSphere ESXi 5.1, 5.5 and 6.0 and can run on standard hardware. So existing infrastructure can be utilized to deploy virtual protection storage. An assessment tool can be run during deployment to check the underlying infrastructure and ensure it meets recommended requirements. A single DD VE instance can scale from .5 TB to 16 TBs. Capacity can be easily be moved between virtual systems and/or locations and can be purchased in 1 TB increments allowing you to grow capacity as the business demands it. DD VE maintains the core DD OS features and includes DD Boost, DD Encryption and DD Replicator. Configure and manage a DD VE instance using DD System Manager and centrally manage multiple DD VE instances through DD Management Center.
Data Protection Suite:
EMC Data Protection Suite Family
The EMC® Data Protection Suite Family provides enterprise organizations with industry-leading data protection through a comprehensive set of offerings specifically tailored to meet your needs. Whether your data protection environment is rich with mission critical applications, fully virtualized, focused on backup and recovery with requirements for supporting many different use cases including NAS and tape-out, or a complex assortment of these, the Data Protection Suite Family offers solutions built to satisfy the needs of your business. Because there is no such thing as a one size fits all solution, EMC has designed the Data Protection Suite Family based on enabling you to meet service levels that align to your business objectives.
Data Protection Challenges
Companies are rethinking next generation data protection methods as a result of exponential data growth, regulatory compliance, strict service-level agreements, and shrinking backup windows. And IT teams face additional challenges from accelerated virtualization and the need to better protect data residing throughout the enterprise.
The reality is that most companies are managing their applications and data in multiple places; from on-premise traditional infrastructures to virtualized environments to hybrid and public clouds. This calls for a data protection strategy that acknowledges the current landscape and protects data across all consumption models because it is likely that you will need to protect more than one of these environments for some time. At the same time, protection and availability should be based on the business value of the data and service levels that align to your business objectives.
Traditional solutions are inefficient because they repeatedly backup everything-duplicate files and sub-file data segments that exist across servers, desktops, laptops, and offices. When combined with traditional daily incremental and weekly full backups, the amount of duplicate data is staggering and often leads to decreased performance and increased costs. Searching for backups to recover data in large environments becomes a daunting task.
A primary driver of this exponential data growth is copy data, which includes copies for data protection, analytics, operations, as well as testing and development. In fact, this copy sprawl is expected to consume storage capacity and increase costs. This explosion of copy data is being driven by the move to self-service, which has led to siloes of copy creation across the enterprise without global oversight. Solving this copy data problem requires modern data management which focuses on optimizing infrastructure efficiency, streamlining operations and consistently meeting service levels across the enterprise.
In addition, companies that lack robust data archiving processes risk reduced user productivity, along with increased storage and backup costs. Organizations also require fast, easy access to archived email, files, and Microsoft™ SharePoint® content in support of highvolume discovery, regulatory compliance, and secure legal holds.
Data Protection Suite Family
The Data Protection Suite Family simplifies data protection choices, making it easier than ever for you to access best-of-breed backup, recovery, and archive solutions that fit your specific needs. The EMC Data Protection Suite Family provides comprehensive, industry-leading data protection to a variety of enterprise organizations. Protecting data using technology from replication to snapshot to backup and archive, Data Protection Suite delivers coverage across all consumption models. With solutions built to meet the needs of all types of organizations and data protection environments, the Data Protection Suite Family protects your data no matter where it is and against whatever happens. Here is a deeper look into each of our Data Protection Suite offerings:
Data Protection Suite Enterprise Edition
The most comprehensive of all Suite offerings is Data Protection Suite Enterprise Edition. Protecting data through technology including continuous replication, snapshot, deduplicated and traditional backup, and archive, Enterprise Edition differentiates itself by meeting the needs of organizations of all sizes via a single, comprehensive offering. This Suite boasts EMC's best-ofbreed backup and recovery products, as well as industry-leading replication and archive.
Data Protection Suite For Backup
Data Protection Suite for Backup is a backup and recovery software solution delivering industryleading data protection to a variety of enterprise organizations. Designed for use in physical and virtual environments and supporting many different deployment models and protection technologies including deduplication backup, back up to disk, snapshot-based backup, and backup to tape, this Suite offers flexibility to mix and match components to quickly optimize performance and data protection today and in the future, while also reducing costs.
Data Protection Suite For Applications
Data Protection Suite for Applications provides unparalleled efficiency to meet stringent SLAs on mission critical applications. With EMC Data Protection Suite for Applications, customers are given a solution which provides up to 20x faster backup by enabling direct backup to EMC Data Domain® from either primary storage or the application server, and up to 10x faster recovery. It empowers application owners/database administrators to backup directly to Data Domain through native application utilities (like Oracle RMAN®) and also allows them to discover, automate and optimize copies for superior copy data management. Data Protection Suite for Applications reduces the hidden risk and cost associated with distributed, self-service copy creation by providing global oversight of the copy data ecosystem. Finally, it eliminates, or significantly reduces, the impact on application servers because little or no data flows through the application server.
Data Protection Suite For VMware
Data Protection Suite for VMware offers end-to-end data protection for VMware-based environments including backup and recovery, continuous replication, monitoring and analysis, and search capabilities. This offering is a software-only data protection solution that delivers simplified deployment and administration within virtualized and cloud environments. Data Protection Suite for VMware is unique in the market in that no other vendor provides this depth and breadth of data protection.
Data Protection Suite For Archive
Data Protection Suite for Archive serves as EMC's best-in-class solution for all things archiving and e-discovery. As a part of the Data Protection Suite Family, this solution gives organizations the full ownership and control over their information. Customers have the ability to reduce costs by reclaiming valuable primary data storage space, optimizing server and operational performance, and meeting company compliance regulations, eDiscovery and litigation needs.
Cloud-enabled
Many organizations are moving quickly toward cloud-based environments - private, hybrid, and public - for greater flexibility and agility to help reduce costs. Whether you're protecting applications and data residing within your data center or the public cloud, Data Protection Suite provides the same enterprise-level user experience. In particular, there is benefit in leveraging cloud storage - specifically object storage - rather than tape, for long-term retention of backups. With EMC CloudBoost, Data Protection Suite delivers highly-efficient, secure long-term retention of backups in private cloud through EMC Elastic Cloud Storage or a leading public cloud of your choice, as well as backups of data and applications within the public cloud. This cloud-enabled solution underscores EMC's commitment to protecting data across all consumption models.
What's Included
The combination of components within each Data Protection Suite offering is hand-picked to deliver comprehensive data protection according to the requirements of your organization's environment. See below for a complete product breakdown to see what is included in each Suite.

Complete Enterprise Protection
Enterprise organizations with at least 1 TB of protected capacity can choose to deploy Data Protection Suite components within each offering at your discretion, in any combination - and modify the mix over time as data grows and requirements evolve. As a result, you can effectively protect your applications and data to improve performance, reduce costs and mitigate risk.
By utilizing its industry-leading backup and recovery software, Data Protection Suite Enterprise Edition and Data Protection Suite for Backup provide enterprise-wide protection of files, applications and databases in both physical and virtual environments, as well as unified search capabilities using Data Protection Search. With deduplication and traditional protection storage support, Data Protection Suite Enterprise Edition and Data Protection Suite for Backup allow you to ensure long-term reliable backup retention, including long term retention to private and public cloud with CloudBoost. All Data Protection Suite offerings include comprehensive physical and virtual environment monitoring, analysis and reporting, delivered by Data Protection Advisor.
ProtectPoint, a product included in Data Protection Suite Enterprise Edition and Data Protection Suite for Applications, provides up to 20x faster, more efficient backup while eliminating the impact on application servers.
Data Protection Suite for Applications and Data Protection Suite Enterprise Edition include EMC Enterprise Copy Data Management (eCDM), delivering copy data management across the modern data center by discovering copies for non-disruptive global oversight, automating SLO compliance via efficient copy creation, and optimizing operations and providing intelligent analytics with EMC Enterprise Copy Data Analytics. eCDM empowers application and database admins by enabling self-service capabilities.
For long-term archive, Enterprise Edition includes EMC SourceOne, enabling storage optimization and savings on primary storage costs as well as content preservation for email, files, and Microsoft SharePoint. SourceOne Discovery Manager and SourceOne Email Supervisor are optional add-ons to Enterprise Edition and the Suite for Archive, providing eDiscovery and compliance capabilities.
Data Protection Suite also offers optional cloud data protection with MozyEnterprise® for secure sync, share, collaboration & real-time document protection for desktop and laptop users to hybrid cloud.
For a complete data protection solution, leverage the powerful combination of EMC data protection software with protection storage. Experience reduced risk of data loss, industry-leading deduplication, and superior performance when using Data Protection Suite with Data Domain.
Simplicity, Flexibility, And Investment Protection
The Data Protection Suite Family is designed to provide options when it comes to protecting different environments.
EMC delivers innovative end-to-end software and protection storage solutions that are designed to work together. The Data Protection Suite Family provides you the freedom to purchase based on consumption and deployment models, allowing the migration of your data protection infrastructures to meet evolving backup and recovery, archiving and compliance requirements.
Specifications:
VNXe3200 with Data Domain DD2200 Specifications
Included Hardware
EMC VNXe3200 with 36 TB raw capacity: 9 x 4 TB 7.2 K NL-SAS drives
EMC Data Domain DD2200 supporting 4.7 TB/hr throughput
Included Software
EMC Data Protection Suite Includes:


EMC Avamar
EMC NetWorker
EMC Data Protection Advisor
EMC SourceOne

Storage Type
NAS
SAN
Unified
Drive Type
Flash SSD
SAS
NL-SAS
Product
VNXe Products
Data Domain Products
Data Protection Suite Products
Solution For
Entry-Level Storage
Backup and Disaster Recovery
Data Protection
Storage Consolidation
Browse By
Primary Storage
Backup Storage