VCE Vxblock System 350

power data centers and simplify management and operations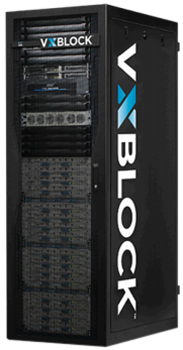 Sorry, this product is no longer available, Please contact us for a replacement.
Overview:
The modern data center comes to the midmarket with VCE VxBlock System 350 converged infrastructure. VxBlock System 350 integrates compute, network, storage, virtualization, and management in a converged solution built and supported by VCE. So you can quickly deploy or expand your virtualized data center or cloud environment. And scale easily as your business grows.
You get a converged system optimized for flash performance. VCE VxBlock System 350 is based on Cisco Unified Computing System (UCS) blade servers and the EMC Unity storage array, which is engineered for flash, rich data services, and simplicity.
Vblock® And Vxblock™
Compared to traditional data center methodologies of "do-it-yourself" or reference architecture, Converged Infrastructure eliminates the slow, complex, and costly process of procuring and assembling infrastructure in-house. VCE Vblock Systems and VxBlock Systems deliver solutions for a broad range of use cases, significantly reducing costs and time-to-deployment and enabling your IT staff to spend more time on new initiatives and growth.
Unsurpassed Simplicity - Vblock Systems and VxBlock Systems bring together best-in-class components in compute, network, and storage from technology leaders like Cisco, EMC, VMware, and more. All system elements are pre-integrated, preconfigured, then tested and validated before shipping. Seamless integration allows you to operate and manage your system as a single product, rather than as individual, siloed components. The end result is significant time and resource savings over traditional, multi-vendor integrated systems or reference architectures.
Flash Optimized - VCE enables customers to create a modern data center with multiple options to deploy all flash converged systems. Powered by flash from leading EMC storage platforms, Vblock Systems and VxBlock Systems are ideal for mixed workload consolidation and applications that require extreme performance and scale.
Streamlined Deployment - With multi-vendor solutions and reference architectures, considerable time and resources are devoted to sourcing, integrating, testing, and validating. VCE Vblock Systems and VxBlock Systems can be delivered within 45 days of order-for the fastest time to value.
System Sustainability - Rely on the VCE Release Certification Matrix (RCM) to streamline software release planning and configuration management across VCE converged infrastructure platforms. VCE Quality Assurance tests for interoperability of hardware and software to ensure that your system and data center dramatically reduce downtime due to updates and scheduled maintenance. This unique VCE Experience spans across all Vblock Systems and VxBlock Systems for an unmatched customer experience.
Converged Infrastructure Management - VCE Vision™ Intelligent Operations is Health and Life Cycle Management software for VCE systems. Its intelligence, automation, and visualization facilitate standardized, repeatable IT processes-making it easier to keep your data center/hybrid-cloud environment healthy, stable, optimized, and secure. The software manages compute, storage, network and virtualization components together as a single system and multiple systems as a single pool of resources. Functions include health, RCM compliance and security compliance management.
Simplify Scale - VCE Vscale™ Architecture enables scale-up and scale-out data centers by combining a modular grow-as-needed architectural design with the flexibility to add resources incrementally through VCE™ Technology Extensions. Through the VCE™ Fabric, a scalable spine-leaf network fabric, you can connect multiple systems and modular components to create a shared pool of resources. With VCE Vision Intelligent Operations software, you can extend visibility into the entire data center and all of its components.
Single-call Support - VCE delivers fully integrated, 24/7 support with a single phone call. There's never any finger-pointing between vendors, and you can always rely on our fully cross-trained team for a fast resolution to any problem.
Critical Data Protection - For reliable backup and recovery, your VCE System is built with data protection optimized for your specific needs. VCE offers the most advanced data de-duplication, replication, and storage federation technologies for achieving your Recover Point Objective (RPO) and Recover Time Objective (RTO) requirements.
Security and Compliance - Vblock Systems and VxBlock Systems are engineered to ensure the highest levels of security and are built to simplify complicated compliance requirements. All components and software are tested and validated to eliminate security vulnerabilities and to enhance performance and integrity. In addition, VCE Vision Intelligent Operations software automates the inspection and other time-consuming aspects of system security and software compliance policy, greatly reducing the time needed to pinpoint and eliminate security vulnerabilities.
Key Features:
Provides converged infrastructure built on EMC Unity All Flash or Unity Hybrid storage
Choice of network virtualization: VMware NSX and/or Cisco Application Centric Infrastructure (ACI)
Engineered, manufactured, supported, and sustained by VCE
Unified block and file storage with 64-bit file system
Includes VMware vSphere hypervisor
Uses VCE Vision Intelligent Operations management software for insight into system health, stability, and security
Products:
VCE's portfolio of Vblock Systems and VxBlock Systems provide a wide range of solutions to meet your requirements for size, performance, and scalability within the data center. Both Vblock Systems and VxBlock Systems are built with industry-leading technology, while VxBlock Systems offers increased flexibility in network virtualization solutions with a choice between Cisco ACI and VMware NSX.
Flexibility and Simplicity for Growing Businesses
Vblock and VxBlock System 200 Series are complete converged infrastructure for medium-sized businesses and distributed remote offices. Ideally suited for mixed workloads and general-purpose customer applications, these systems feature the next generation of compute, networking, storage, and virtualization and are an ideal entry-level private-cloud solution for businesses seeking the availability and performance benefits of enterprise-class converged infrastructure.
Enterprise-Class Performance for Virtualization and Cloud Computing
Vblock and VxBlock Systems 300 Series are agile and highly scalable converged infrastructure designed for the rapid rollout or expansion of a virtualized data center, cloud environment, or service-provider solution. These systems can be easily tailored to meet specific workload or SLA requirements, like VDI, Microsoft Exchange, Oracle, and SAP, while minimizing risk and costs. Leveraging the power of the EMC Unity™ storage platform, Vblock and VxBlock 300 Series are flash optimized, providing unparalleled performance.
Industry's First All-Flash-Based Converged Infrastructure
Vblock and VxBlock System 500 Series are all-flash-based converged infrastructure systems for mixed, high-performance workloads and emerging third-platform applications. Leveraging EMC XtremIO™ All Flash media storage and Cisco Unified Computing System (UCS) and Application-Centric Infrastructure (ACI)-ready network, these systems deliver scale-out performance at ultralow latency. Additionally, combined with VCE™ Technology Extensions for EMC® Isilon® storage, Vblock and VxBlock 540 are an ideal platform for big data analytics and end-user computing.
Industry's Most Advanced and Intelligent Converged Infrastructure
Vblock and VxBlock System 700 Series are the industry's most advanced, intelligent converged infrastructure with unmatched performance, capacity, and availability for the most demanding mission-critical applications. Powered by the next generation of Cisco UCS and ACI-ready network, VMware virtualization, and a choice of EMC VMAX3 for a hybrid-storage configuration or the breakthrough VMAX All Flash for an all flash-configuration; these systems are VCE's flagship product lines. The new VMAX All-Flash array delivers multidimensional scale, high IOPS for extreme levels of performance with low latency, lower total cost of ownership with fewer drive replacements, and smaller data center footprints. Vblock and VxBlock 740 are flash optimized to deliver the performance and availability required for mission-critical workloads such as SAP, Oracle, Microsoft, and VDI in large enterprise environments.
Vblock® Systems and VxBlock™ Systems Series
200
300
500
700
Model
240
340/350
540
740
Compute
Cisco UCS Rackmount Servers C220 M3 and M4
Cisco UCS Server Chassis
Cisco UCS B-Series Blade Servers
Cisco UCS Virtual Interface Card 1240, 1280, 1340, 1380
Cisco UCS 2204XP/2208XP Series Fabric Extenders
Cisco UCS 6248UP/6296UP Fabric Interconnects
Min/Max Servers
4-12
NA
NA
NA
Min/Max Chassis
NA
2/16
2/24
2/64
Min/Max Blades
NA
2/128
2/192
2/512
Network
Nexus 5548UP - Fibre Channel & Ethernet
Nexus 1000V Advanced Edition or VMware VDS
Nexus 9396PX
Nexus 5548UP or 5596UP
MDS 9148S
Nexus 1000V Advanced Edition or VMware VDS
Nexus 3048
Nexus 9396PX
Nexus 5548UP or 5596UP
MDS 9148S Multilayer Fabric Switch or MDS 9706 Multilayer Director
Nexus 1000V Advanced Edition or VMware VDS
Nexus 3064-T Switch
Nexus 9396PX
Nexus 5548UP or 5596UP
MDS 9148S Multilayer Fabric Switch or MDS 9706 Multilayer Director
Nexus 1000V Advanced Edition or VMware VDS
Nexus 3064-T Switch
Storage
EMC VNX5200
340: EMC VNX5400, 5600, 5800, 7600, 8000
350: EMC Unity 300/F, 400/F, 500/F, 600/F
EMC XtremIO 1, 2, 4, 6, or 8 XBrick Cluster
EMC VMAX 100k, 200k, 400k and VMAX
All Flash 450F/FX and 850F/FX
Storage Capacity
Up to 500TB
Up to 6PB
Up to 320TB
Up to 4PB
Virtualization
VMware vSphere 6.0 Cisco ACI
VxBlock™ Systems: VMware NSX 6.2 and Cisco ACI
Management
VCE Vision™ Intelligent Operations
Specifications:
VCE Vxblock System 350 Specifications
Storage Platforms
EMC Unity 300/300F
EMC Unity 400/400F
EMC Unity 500/500F
EMC Unity 600/600F
Compute Integration
Cisco UCS
Networking
Cisco Nexus switches
Network Virtualization
Cisco ACI and/or VMware NSX
Management Infrastructure
VCE Vision Intelligent Operations
Product
VCE VxBlock Products
Solution For
Converged Infrastructure
Data Center Consolidation
Enterprise-Class Storage
Browse By
Converged Infrastructure Block