VCE VxRack System 1000 with Neutrino Nodes

deploy a stable and reliable OpenStack environment quickly and successfully

Sorry, this product is no longer available, Please contact us for a replacement.
Overview:
Challenges
Businesses everywhere are embracing the promise of Digital Transformation. IT organizations looking to accelerate their digital transformation are facing a need to drive continuous growth and innovation with cloud native applications, forcing a modernization in technology, processes, skills and roles.
The transition from traditional P2 apps to cloud-native P3 apps isn't an easy one. With different characteristics, such as infrastructure and resiliency requirements, the DIY approach to building a cloud native environment isn't a simple undertaking. Some of the challenges organizations face with cloud-native are:
Lacking/finding/retaining the right talent that are experts in open source
Architecting, deploying and maintaining a cloud native infrastructure
Understanding OpenStack complexities
Managing updates/upgrades/patches of community supported code
Determining accurate time to market; can take months to design and deploy cloud native infrastructure
Uncertainty of success, with a small percentage of successful deployments reported to date
These challenges have increased the demand for purpose-built cloud native solutions that provide a quick to deploy, easy to manage on-premise cloud that can support a variety of public cloud-like services.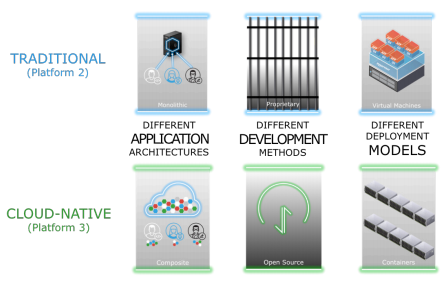 Introducing VxRack With Neutrino Nodes
Turnkey cloud-native Infrastructure-as-a-Service (IaaS)
VxRack with Neutrino Nodes was architected with cloud native in mind: pairing the benefits of the VCE VxRack System 1000 hyper-converged, industry standard hardware with purpose-built management, provisioning and reporting software.
VxRack with Neutrino Nodes is for Enterprises that need a predicable business outcome and have been asked by the Line of Business (LOB) to deliver an OpenStack environment, but don't have the time or expertise needed to build their own infrastructure from the ground up. With the hardware components arriving preconfigured and racked and automated provisioning of OpenStack, a Cloud Compute Service can be up and running and delivered to the LOB in a single day…with just a few clicks. Any OpenStack based application built with VxRack with Neutrino Nodes can be ported to another project, at any time, with no vendor lock-in.
Thanks to its unique architecture, VxRack with Neutrino Nodes will be able to support other cloud-native environments in the future, such as VMware Photon. This allows organizations an unprecedented level of flexibility in terms of supporting varied business needs in a turnkey fashion.
Manage the Service Lifecycle
Organizations who are transitioning traditional-based roles/skills to cloud-based roles/skills can accommodate this transition easily with VxRack with Neutrino Nodes fully automated processes. In just a few clicks cloud administrators can:
Select nodes and provision a fully operational OpenStack environment
Add/remove nodes to dynamically respond to business needs
Monitor and report on the infrastructure and services
Replace nodes for maintenance, etc.
Upgrade the service
Proactively Manage the Infrastructure and Services
Ongoing monitoring of the environment is crucial for any organization and VxRack with Neutrino Nodes makes it easy for you to evaluate performance and analyze trends, estimate resource requirements to meet future growth and troubleshoot when needed.
Health monitoring and reporting shows the overall health of the infrastructure, Platform and Cloud Compute Service components. Tree maps at the top of the dashboards show real-time status while the tables give some more details.
Performance monitoring and reporting simplifies OpenStack performance visualization that a multi-service Cloud Administrator requires. With centralized reporting of the complete solution broken down into infrastructure, service and account, Cloud Administrators have the detailed information they need, when they need it.
Alerting Predefined alerts for bricks, nodes, disks, services, licensing, software components, storage, and switches are available. The Cloud Administrator can configure which alerts they want enabled or disabled and set thresholds for alert severity.
Capacity planning is important for Cloud Administrators to be able to predict when additional hardware is required. To achieve this, VxRack Neutrino not only shows you the current resource usage but also usage trends, providing Cloud Administrators with 6 month projections. The Cloud Compute Service also has advanced planning tools that simulate potential new workload scenarios.
Native Hybrid Cloud
For organizations that have been asked by the LOB to quickly deploy and support a Pivotal Cloud Foundry implementation, VxRack with Neutrino Nodes is key for a quick deployment of the new Native Hybrid Cloud engineered solution from EMC. Native Hybrid Cloud is a best of class-engineered solution for cloud-native application development that allows the business to rapidly innovate and deliver differentiated value to market. The Native Hybrid Cloud combines PaaS with VxRack with Neutrino Nodes, professional services and single vendor support to create a modern developer platform that can be delivered in days rather than months to years.
Key Features:
Enterprise grade system for cloud native IaaS
Multi-service agility
Turnkey deployment and management
Compelling economics
Essentials
Part of the VCE VxRack System 1000 Family
Easy to deploy. Preconfigured system arrives fully racked and ready to connect to enterprise.
Grow-as-you-need. Start small with a single rack and grow as needed.
No more silos with automation. Accommodate the change in roles from traditional to cloud.
Architected with cloud native development in mind. Same hardware will support multiple cloud native envirnoments.
Simplified operations through management UI. Complete service lifecycle management with robust reporting.
Value
Elasticity. Add or remove capacity with no service disruption
Scalability. Scale to 180 nodes
Multi-tenancy. Multiple accounts with administrative isolation
Reliability. Software defined HA solutions and live updates
Deployment. EMC installs the complete solution
Simplicity. Management functions accessible via intuitive user interface
Maintenance. Upgrade base and service software with minimal disruption
Serviceability. Single vendor support for the entire stack
Designed for:
Enterprises. Who want an onpremise private cloud to host cloud-native 3rd platform applications, but lack deep OpenStack expertise.
ISV's. Who need to deliver hosted private cloud/applications or on-premise.
Mid-Sized Service Providers. Who are developing public cloud environments for use by multiple tenants.
Specifications:
Choose the right configuration for your business
Table 1. Technical Specifications for Individual 'P' Bricks
P412/P812
P416/P816
P420/P820
Nodes
4
4
4
Processor Per Node
Dual E5-2620V3
Dual E5-2640V3
Dual E5-2660V3
Memory Per Node
128GB
256GB
512GB
Drive Controller Per Node
12G/s SAS
12G/s SAS
12G/s SAS
Storage Per Node
P412: 4x400 GB SSD
P812: 4x800 GB SSD
P416: 4x400 GB SSD
P816: 4x800 GB SSD
P420: 4x400 GB SSD
P820: 4x800 GB SSD
Networking Per Node
2x 10GbE+
2x 1GbE
2x 10GbE+
2x 1GbE
2x 10GbE+
2x 1GbE
Table 2. Technical Specifications for Individual 'I' Bricks
I1812
I1816
I1820
Nodes
1
1
1
Processor per node
Dual E5-2620V3
Dual E5-2640V3
Dual E5-2660V3
Memory per node
128GB
256GB
512GB
Drive Controller Per Node
12G/s SAS
12G/s SAS
12G/s SAS
Storage per node
1x400 GB SSD
1X800 GB SSD
22X1.8TB HDD
1x400 GB SSD
1X800 GB SSD
22X1.8TB HDD
1x400 GB SSD
1X800 GB SSD
22X1.8TB HDD
Networking Per Node
2x 10GbE+
2x 1GbE
2x 10GbE+
2x 1GbE
2x 10GbE+
2x 1GbE
Table 3. Technical Specifications for Racks
Rack Configuration
Max # Of Physical Racks
4 (first plus expansions)
Max # Of Bricks
45
Max # Of Nodes
180
Max # Of Cores
2160
Max Memory
54TB
Max Raw Storage
297.6 TB SSD 158.4 TB SSD
950.4 TB HDD 1425.6 TB HDD
Network Connectivity
Up to 8x40 GbE, redundant
Power Options
Single phase, Three phase WYE, Three phase Delta, redundant
Typical Power Consumption
First rack up to 15.5kW
Expansion racks up to 18.5kW
Typical Thermal Rating
First rack up to 50,000 BTU/h
Expansion rack up to 63,000 BTU/h
Table 4. Environmental Specifications
Operating Environment
50°F to 95°F (10°C to 35°C), 5% to 95% relative humidity, non-condensing
Dimensions
Height: 80 in. (203cm), Width: 28 in. (70 cm), Depth: 48 in. (121 cm)
Weight
First Rack: Fully Loaded Max weight 1446 lbs.
Expansion Rack: Fully Loaded Max weight 1664 lbs.
Minimum Service Clearances
Front 42 in. (107 cm), read 36 in. (91 cm)