Storage Analytics

Extending Analytics to the Storage Domain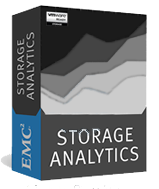 Sorry, this product is no longer available, Please contact us for a replacement.
Overview:
Optimize performance and diagnose issues across physical storage and virtual machines with EMC Storage Analytics (ESA). This software lets you extend VMware vRealize Operations analytics to supported EMC storage platforms.
Out-of-the box custom visualizations and health indicators (badges) help you quickly deploy EMC infrastructure support within vRealize Operations Manager.
Dashboards, heat maps, and other visual tools provide deep visibility into your EMC infrastructure. Actionable capacity and performance analysis help you troubleshoot, identify, and act on issues fast. Whether you are a storage administrator or a VMware administrator, you can get the view you need.
Single Tool For Managing VMware And EMC Environments
The EMC Storage Analytics solution delivers a single, end-to-end view of virtualized infrastructures (servers to storage) powered by VMware® vRealize™ Operations analytics engine. EMC Storage Analytics (ESA) delivers actionable performance analysis and proactively facilitates increased insight into storage resource pools to help detect capacity and performance issues so they can be corrected before they cause a major impact. ESA provides increased visibility, metrics and a rich collection of storage analytics for Isilon, OpenStack, EMC® RecoverPoint for Virtual Machines, ScaleIO, VMAX®/VMAX3®, VNX®, VNXE, vVNX, VPLEX® and XtremIO storage infrastructures in VMware virtual and physical (VNX and VNXe) environments. Benefits include:
Comprehensive visibility and customizable dashboards for storage administrators, showing health, performance and capacity metrics
Visualize and detect the storage impact of application workload changes
Simplify troubleshooting and reduce IT infrastructure management complexity
Problem detection (performance and capacity anomalies), isolation and remediation actions to ensure service levels
ESA provides users with simple dashboards to optimally manage their EMC storage environment:
Topology - provides greater visibility across the VMware and storage domains in terms of an end-to-end mapping. Mappings include storage system components; and storage system objects and virtual infrastructure objects. Topology mapping enables health scores and alerts from storage system components, such as storage processors and disks, to appear on affected vCenter objects, such as LUNs, datastores, and VMs.
Metrics - provides metrics based on "normal" behavior of that application workload (which it learns over a period of time), after which it can analyze and make sense of all the data that has been collected and appropriately point out anomalies in behavior. This dashboard displays resource and metrics for storage systems and graphs of resource metrics.
Overview - populates heat maps that show administrators the health of their system and reflects which workloads are stressed. In addition, it shows performance and capacity utilization statistics for various resources including FAST Cache and Fully Automated Storage Tiering for Virtual Pools (FAST VP).
Performance - provides a single view of the most important performance metrics for the resources. For instance, the XtremIO dashboard provides percent utilization of the Storage Controller CPUs, key volume, and SSD metrics and sparklines.
Communication - view a collection of heat maps that provide a single view of the performance of the communication links for a VPLEX configuration.
Create-Your-Own-Dashboard - choose from a list of several templates and customize the look of your dashboard based on your environment.
EMC Storage Analytics Plugs Into VMware Vrealize Operations
VMware vRealize Operations Management goes beyond the embedded functionality in EMC Storage Analytics (ESA) to provide a simplified approach to operations management across virtual, physical and cloud infrastructure. With vRealize Operations, you can benefit from improved visibility across heterogeneous infrastructure and applications to ensure quality of service and quickly detect issues.
Unlike traditional approaches designed for static, physical environments that can overwhelm you with data, vRealize Operations is designed specifically for highly scalable, dynamic infrastructures and is:
Automated - Patented, self-learning analytics provide a higher degree of automation and deliver nearly 70% productivity gains and 30% reduction in resource consumption.
Integrated - An integrated approach to performance, capacity and configuration management helps you better manage the environment.
Comprehensive - Built on an open and extensible framework, vRealize Operations delivers performance, capacity, change, configuration and compliance management, application discovery and monitoring and cost metering.
The Best Storage For Virtual Environments
EMC storage arrays are the ideal system for VMware virtualized application environments, based on the award winning integration capabilities. Adding EMC VPLEX and XtremIO to the storage infrastructure delivers continuous availability for missioncritical applications.
EMC Storage Analytics builds upon existing VMware integrations such as Unisphere®, EMC Virtual Storage Integrator (VSI) for vCenter, VASA (vSphere™ API for Storage Awareness), and VAAI (vStorage APIs for Array Integration) to provide both storage and virtualization administrators with visibility into the entire environment. Each can use their familiar management interface to view both virtual and physical resources, transparently provision storage, integrate replication, and access and offload storage functions to the array. Together, these integrations and EMC Storage Analytics improve the collaboration between storage and virtual administrators and the availability and performance of application workloads.
Key Features:
Helps you maintain service levels proactively
Integrates EMC Storage Analytics with VMware vRealize Operations
Supports Microsoft Hyper-V on VNX and VNXe platforms using System Center Operations Manager (SCOM)
Supported on EMC Unity, Avamar, VNX, VNXe3200, VMAX, VMAX3, VMAX All Flash, Isilon, RecoverPoint for Virtual Machines, ScaleIO, VPLEX, and XtremIO systems
Shows dependencies: end-to-end topology mapping from virtual machines to disk drives
Supplies rich storage analytics, including statistics for EMC FAST Cache and FAST VP
Includes customizable dashboards: see symptoms, alerts, and recommendations through VMware vRealize Operations interface and EMC Unisphere
Powerful Integration
Joint EMC and VMware-ready solution to improve visibility across storage and virtual workloads
Built using patented analytics, dynamic thresholding and deep storage metrics
Preconfigured, customizable dashboards for storage & virtualization administrators
Helps you optimize performance, simplify operations, and deliver a better service experience
Expanding Existing IndustryLeading Virtualization Integration
Integrated views for storage and virtual machine relationships available in Unisphere and VMware vRealize
Intelligent offload of VMware vSphere operations to the array to accelerate VMware storage tasks
EMC Storage Analytics further extends the integration capabilities across EMC and VMware solutions to provide out-of-the box analytics and visualization in addition to the above existing integration points.
Specifications:
Storage Analytics Specifications
Supported Platforms
Unity
VMAX All-Flash
VMAX3
VMAX
VNX
VNXe
Isilon
XtremIO
VPLEX
Avamar
ScaleIO
RecoverPoint for Virtual Machines
Product
EMC Storage Analytics Products
Solution For
Storage Management
Browse By
Software