Dell PowerVault NX300 Network Attached Storage

File sharing and collaboration made simple

Sorry, this product is no longer available, Please contact usfor a replacement.
Overview:
The PowerVault NX300 is a 1U entry-level storage solution (NAS) with integrated storage specific features and advanced storage technologies and data management software, designed to help small and medium sized businesses stay efficient and productive.
Supports up to 12TB in a compact 1U chassis.
Select from several SATA/NLSAS drive offerings to satisfy your capacity needs
Arrives integrated with everything you need to start file sharing, including an automated initial setup and configuration wizard to save you valuable time.
Simple, Dedicated Data Sharing
Using the Microsoft Windows Storage Server 2008 operating system, the PowerVault NX300 is an entry-level NAS that is purpose-built for improved file access performance and easily consolidates growing files across smaller organizations.
| | |
| --- | --- |
| | Reduce duplicate files and data clutter with Single-Instant Storage (SIS), which identifies duplicate files, saves one copy and replaces the other version with pointers to the stored versions. |
| | Share files across Windows and non-Windows client systems with CIFS (SMB 2.0) and NFS. |
| | Get quick access and protect stored files across WAN/LAN environments with Distributed File Systems (DFS and DFS-R). |
| | Access your file system wherever you are with iDRAC and Java Remote Desktop Protocol (RDP) remote management features. |
Set Up and Manage with Ease
The PowerVault NX300 integrates everything you need, right out of the box, to begin sharing information safely and efficiently, without wasting time, money and resources building a file server from scratch.
The NX300 NAS system integrates seamlessly into your Windows® environment, taking advantage of the same management and protection tools you've already deployed. Integration with non-Windows clients is also effortless and transparent.
Headless operation and remote management are offered through the integrated Dell Remote Access Controller (iDRAC) and Java Remote Desktop Protocol (RDP). In addition, the Remote Desktop for Administration feature in Windows Storage Server 2008 R2 provides remote administration of re-occurring management tasks, saving valuable time and resources.
| | | |
| --- | --- | --- |
| | | |
| Automates setup and configuration with the "initial configuration task" tool. | Supports unlimited users through included client-added licenses (CALs). | Manage your information remotely through a web-based browser using Remote Desktop and the Microsoft Management Console. |
Storage Technology that Works for You
The NX300 offers of the right mix of high storage capacity and data management software to help keep your storage deployment efficient. The factory-installed Windows® Storage Server 2008 R2 x64 operating system condenses the top file-serving features from Windows® Server 2008 R2 and adds advanced storage management features designed for faster, more efficient and more reliable file sharing.
Choose your capacity point by selecting from a variety of SATA/NLSAS hard drives up to 12TB of capacity
Reduce duplicate files (transparent file-level deduplication) with single-instance storage (SIS)
Access information faster through Distributed File System (DFS) namespaces
Share files across Windows and non-Windows clients with CIFS (SMB 2.0) and NFS.
Block and file storage, Single Instant Storage and internal as well as external capacity expansion. The smart integration of these SMB critical features help ensure that your storage investment is protected for years to come.
Key Benefits:
Simple, Dedicated Data Sharing
This entry-level file-sharing system is easy to manage with its integration of Windows® Storage Server 2008. This specialized operating system helps control growing storage demands by making file storage more efficient. Maintaining productivity is essential for any business, so the NX300 gives disparate users simplified access to files and shares across a network-wide infrastructure, even to remote offices. File shares are easier to locate and more resilient.
The NX300 helps eliminate data clutter by identifying duplicate files, storing one copy and replacing others with pointers. It also has single-management interface that delivers better managed file services across CIFS/NFS and provides improved control and compliance over files, perfect for audit and planning purposes.
Room to Grow Your Business
The PowerVault NX300's efficient file sharing is packaged in small, 1U form factor leaving extra room in your rack for other systems and components. Plus, its maximum 4TB capacity allows plenty of space to grow files and shares. Finally, you can grow the size of your collaborative namespace by adding multiple NX300 systems together using DFS Namespace.
No Wasted Time to Setup or Manage
Avoid the hassle of building a file server from scratch. The PowerVault NX300 is optimized for storing, sharing, and protecting files and is integrated and ready to go out of the box. In fact, the PowerVault NX300 can be ready to share files within minutes. Take full advantage of the Initial Configuration Tasks wizard to streamline the setup process. Also, there is no need to buy additional Client-Access Licenses (CALs) for each user you add to your NX300. Support for multiple users is already built into this file-sharing system.
Product Views:


Front View


Front Open (4 Drives) View


Rear View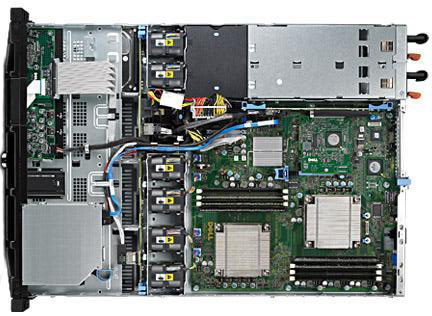 Internal View
Simple File Sharing
Windows Storage Server 2008 included for Advanced file services and optimal performance


Energy Efficient Power Supplies
Reduce power consumption without compromising performance
New Intel Xeon 5500 Series Processors
Enhanced system performance
DDR3 Memory
Higher memory capacity and lower power consumption
Technical Specifications:
PowerVault NX300
Operating System
Operating System
Windows Storage Server 2008 Standard Edition
File Access Protocols
File Access Protocols
CIFS, NFS, FTP
Block Access Protocols
N/A
Processor
Number of Processors
1
Processors Supported
Intel Xeon 5500 Sequence Processors
Storage
Memory
3GB or 6GB DDR3
Internal Storage
4 hard drives
Max Internal Capacity
4TB (raw capacity)
External Capacity
N/A
Drives Supported
SATA, Near-line SAS:
3.5" SATA: 250GB, 500GB, 750GB, 1TB
3.5" Near-Line SAS: 500GB, 750GB, 1TB
Connectivity
Expandability
N/A
Network Connectivity
Dual-Port Broadcom BCM 5716
RAID
RAID Type
HW RAID Levels : 0, 1, 5, 6, 10 (preconfigured with RAID 5 from the factory)
Power
AC Power/Max Current
Non-Redundant, 480W (80+ BRONZE)
Optional Redundant, 500W (80)
Auto Ranging (100V~240V)
Management
Systems Management
Dell OpenManage featuring Dell Management Console with iDRAC express and remote management through iDRAC Enteprise (optional) and/or Native Java RDP plug-in
Data Protection and Management Features
Single-Instant Storage (SIS), Distributed File System Replication (DFS-R)
Built-in VSS snapshots for CIFS/NFS
Chassis
Form Factor
1U Rack
Dimensions
1.69"h x 17.09"w x 24.69"d
Weight
26.1kg (57.53lb) maximum configuration
Slots
N/A
Availability
Hot-plug hard drives (standard)
Hot-plug redundant power (optional)
Hot-plug redundant cooling (standard)
ECC memory
Rack Rails Support
Sliding ReadyRails™ for 4-post Racks
Static ReadyRails™ for 4-post & 2-post
Regulatory
Regulatory and Environmental Compliance
Regulatory Model: E13S (12 Hard Drives Configuration)
Regulatory Type: E13S001 (12 Hard Drives Configuration)
Services:
Hardware Support Service Plans
Dell IT Infrastructure Services
Dell brings pure execution to IT Services. The planning, implementation and maintenance of your IT infrastructure deserves nothing less. Variability in execution can compromise user productivity, IT resources and ultimately your reputation. By leveraging our heritage of process-driven excellence, Dell Services can deliver a smarter way. That's Pure Dell.
Deployment Services
New systems can be deployed to help improve performance and meet user demand. With Dell's deployment services, we help simplify and speed up the deployment and utilization of new systems to maximize uptime throughout your IT environment.
Asset Recovery and Recycling Services
Proper disposal, reselling and donation of computer equipment is a time-consuming task that typically falls to the bottom of many IT to-do lists. Dell helps simplify the end-of-life processes for IT equipment in a way that can maximize value for your organization.
Training Services
Arm your employees with the knowledge and skills they need to be as productive as possible. Dell offers comprehensive training services which include hardware and software training, as well as PC skills and professional development classes. With Dell training you can help improve system reliability, maximize productivity and reduce end-user requests and downtime.
Infrastructure Consulting Services
Key challenges facing IT departments today include simplifying operations, planning and building for scalability and improving utilization of their existing systems. Dell's Infrastructure Consulting Services suite is organized into focused practice areas that signify the intersection of these common customer challenges and our domain expertise - including Systems Management, Messaging, Databases, Virtualization/Consolidation and Storage.
Documentation:
Pricing Notes:
All Prices are Inclusive of GST
Pricing and product availability subject to change without notice.