Dell Disk Backup

Speed Up Your Recovery Time
Backing up data is critical for organizations of all sizes. When you consider the choices available, backing up and restoring data from disk is generally faster, easier and more reliable than backing up data from tape. Tape operates on a sequential access basis as opposed to the random access capabilities of disk. This random access enables much faster backups and restores from disk when compared to tape. Due to expanding volumes of data that must be backed up and protected along with shrinking backup windows, many IT departments have moved to or added disk-based backups. However, for long-term storage, keep in mind that tape backup offers a very well-known technology that can be very cost-effective.
Data protection operations are complicated by increasing regulations, technology advances and the need to protect remote sites. Simplify your operations and lower total cost of ownership with the PowerVault™ DL Backup to Disk Appliance. Shipped with factory-installed Symantec™ Backup Exec™ 2010 or CommVault Simpana, the PowerVault DL Appliance enables you to easily deploy the newest data protection capabilities to protect your most important information.
Source and target deduplication reduces the amount of data to store, protect, manage and recover which can help reduce complexity and network resource contention, while improving backup and recovery times. Granular recovery ensures your users can easily restore individual files without the need to rehydrate the entire volume or dataset. Single console management simplifies administration.
The PowerVault DL Backup to Disk Appliance provides unlimited virtual machine protection, and tight integration with VMware and Microsoft technologies, and also includes built-in compression, encryption and archives to disk or tape.
Key Benefits
Streamlined deployment with factory installed leading backup applications
Disk-based protection solution designed to protect virtual and physical environments
Deduplication to optimize capacity and performance
Unlimited virtual machine protection
Granular recovery of individual files or full volumes
Wizard-driven, centralized management capabilities
Removable Disk Storage Models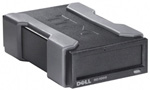 Customers seeking a rugged, removable disk backup for servers or desktops with a simple USB port connection.
Low-cost alternative to entry level tape backup
8X faster backups compared to DAT 72
Software included for easily scheduled backups and continuous data protection