Dell DL1000 Backup and Recovery Appliance

Fast, reliable, affordable backup and recovery appliance powered by AppAssure.

Sorry, this product is no longer available, Please contact usfor a replacement.
Overview:
Spend less time managing your backups and more time growing your small business with a fast, affordable backup and recovery appliance that protects your growing digital world. The DL1000 Backup and Recovery Appliance, built by Dell and powered by AppAssure, provides peace of mind with enterprise-quality data protection at pricing made for small businesses.
The DL1000 appliance is specifically designed for a wide range of environments. Its short 15.5" depth, low power draw, quiet acoustics and fresh air cooling make it ideal for space-constrained office environments. Available in 2TB and 3TB provisioned backup capacity (with an option for up to two standby virtual machines) the DL1000 is powered by award-winning AppAssure backup and recovery software. This provides protection for Windows and Linux servers using incremental forever snapshots, built-in replication, in-line deduplication and compression, and features that enable you to quickly recover applications and data.
Protect your workloads on virtual machines, physical servers, and in the cloud.
Back up critical data with up to 24 block-level snapshots a day for one hour recovery point objectives (RPOs) and near instant RTOs.
Ensure near continuous access to the data you've protected, and resume the use of an impacted server directly from the backup file without waiting for a complete restore.
Simplify moving archives to a cloud storage subscription, allowing you to replace dated tape infrastructure (supported providers are Microsoft Azure, Amazon S3, OpenStack and RackSpace).
Key Benefits:
Streamlines and accelerates your backup operations, helping to eliminate your backup window
Reduces backup footprint with integrated, in-line, block-level deduplication and compression, combined with optimized backups for WAN replication
Gives you granular recovery with the ability to take snapshots as often as every hour
Enhances business resiliency by maintaining standby virtual machines to quickly restore critical servers (on 3TB with VM edition only)
Eliminates the need for hardware sizing, backup software configuration and system testing
Simplifies management with the AppAssure Central Management Console
Deploys quickly with the AppAssure Appliance Configuration Wizard
Technical Specifications:
Dell DL1000 technical specification
Form factor
1U rack
Processors

DL1000 2TB - One Intel® Xeon® processor E3-1270 v3 product family
DL1000 3TB - One Intel® Xeon® processor E3-1280 v3 product family
DL1000 3TB/2VM - One Intel® Xeon® processor E3-1280 v3 product family

Chipset
Intel C222
Hard drives

DL1000 2TB - 2 x 3.5" 3TB SATA 7.2K (RAID 1)
DL1000 2TB - 2 x 3.5" 4TB SATA 7.2K (RAID 1)
DL1000 3TB/2VM - 2 x 3.5" 4TB SATA 7.2K (RAID 1)

Memory

DL1000 2TB - 16GB DDR3 UDIMM with ECC
DL1000 3TB - 16GB DDR3 UDIMM with ECC
DL1000 3TB/2VM - 32GB DDR3 UDIMM with ECC

Storage controller
Embedded NIC

Broadcom® 5720 dual-port 1Gb LOM

External ports for export and Import

2 rear USB 3.0
1 rear eSATA 3.0

Remote management
Data protection software
Operating system

DL1000 2TB : Windows Server 2012 R2 Foundation
DL1000 3TB : Windows Server 2012 R2 Foundation
DL1000 3TB/2VM : Windows Server 2012 R2 Standard

Rack support
ReadyRails™ static rails for tool-less mounting in 4-post racks with square or unthreaded round holes or tooled mounting in 4-post threaded hole racks, with support for tooled mounting in 2-post racks.
Maximum backup capacity

DL1000 2TB - 2TB
DL1000 3TB - 3TB
DL1000 3TB/2VM - 3TB

Power supply
Non-redundant, 250W (80+ Silver); auto-ranging (100V~240V). ENERGY STAR® compliant.
Dimensions
H: 1.66" (42.4 mm) W: 17.09" (434 mm) D: 15.52" (394.3 mm) (without ear/bezel)
Weight
17.76 lb. (8.058 kg) maximum
Management
AppAssure Appliance Configuration Wizard, iDRAC7 Express for remote management, AppAssure Central Management Console
AppAssure software protection
Data protection features
Inline block level deduplication, snapshots, Live Recovery®, Scaling 5 Architecture.
AppAssure Cloud Connector for Microsoft Azure, Amazon EC2, OpenStack and RackSpace
The DL1000 3TB/2VM includes two standby virtual machines for disaster recovery
Licensing
The DL1000 backup and recovery appliances are licensed-based on the back-end compressed and deduplicated stored data capacity
Operating systems supported distributions

Microsoft® Windows® XP, Vista, 7 and 8.x
Microsoft® Windows Server 2003, 2008, 2008 R2, 2012 (all versions)
Red Hat® Enterprise Linux® (RHEL) 6.3 (32- and 64-bit) and 6.4
CentOS® 6.3 (32 and 64 bit) and 6.4
Ubuntu® 12.04 LTS (32 and 64 bit) and 13.04
SuSE Linux® Enterprise Server 11 SP2 (32 and 64 bit) and SuSE Linux Enterprise Server 11 SP3

Virtualization platforms

Microsoft® Hyper-V®
Oracle VirtualBox
VMware® ESXi®
VMware® Workstation

Application support
Microsoft® Exchange®:

Microsoft Exchange 2007 SP1 Rollup 5 or later
Microsoft Exchange 2010
Database Availability Group, Single Copy Clusters, and Cluster Continuous Replication

Microsoft SQL:

SQL Server 2005 or higher
SQL Clusters
AppAssure:
Award-winning protection across physical, virtual and cloud environments that will get your business back up and running in 15 minutes or less.
Your world is built on the data you need to run your business, service your customers, and stay competitive in your industry. AppAssure 5.4 protects your digital world with improved redundancy, failover and recovery options.
AppAssure combines backup and replication into a single reliable, easy to use solution. With proven, awardwinning technology and flexible features, AppAssure 5.4 allows you to match your backup environment to your specific business needs.
Continuously protect the workloads on your VMs, physical servers, or cloud severs with AppAssure's incremental forever snapshots (up to 288 times a day), which will guarantee up to five-minute recovery point objectives (RPOs). For aggressive recovery time objectives (RTOs), Live Recovery allows you to directly access data from backup files almost instantly until the production machine is restored. Alternatively you can create a bootable virtual standby machine that is continuously updated with these snapshots for full recovery in seconds.
AppAssure Recovery Assure enables you to perform automated recovery testing and verification of your backups. It validates that the backups for filesystems, Microsoft ® Exchange , SQL Server ® , are restorable. ™ AppAssure Universal Recovery enables you to recover data with restore capabilities that match your business. Restore at any level, from a single file, message or data object, to a complete machine. Recover to a virtual or physical machine. Restore the data anywhere, to physical, virtual, or cloud environments, enabling local, offsite or disaster recovery.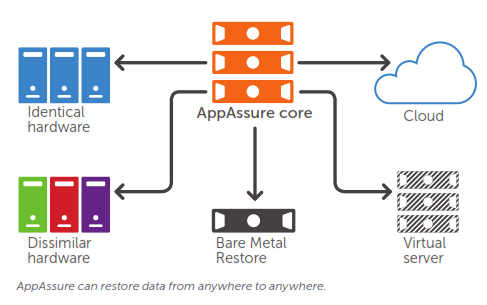 Benefits:
Scale to exabytes with incremental forever snapshots
Get block-level, disk-to-disk snapshots for Windows , Linux, and virtual environments
Recover data faster and easier with revised recovery point management
Protect physical or virtual machines with up to 288 snapshots a day
Gain storage space with advanced deduplication and compression capabilities
Validate the restorability of Microsoft Exchange and SQL Server
Resume the use of a server directly from the backup file, without waiting for a full restore to production
Increase replication flexibility with multiple, built-in replication schemas
Features
Recovery Assure - Perform automated recovery testing and verification of backupsfor Microsoft Exchange and SQL Server. Identify data corruption early and prevent maintenance or transfer of corrupted data blocks during the backup process.
Live Recovery - Leverage near-instant recovery technology for protected virtual machines or servers. Access the impacted server's application and data directly from the backup image if there's an outage, so users remain productive and your IT team will meet stringent RTOs and RPOs.
Universal Recovery - Restore backups from physical to virtual, virtual to virtual, virtual to physical, or physical to cloud, as well as carry out bare metal restores to dissimilar hardware.
Virtual Standby - Continuously export protected data from a Windows machine to a virtual machine (VMware, Hyper-V, or VirtualBox), creating a highly-available, bootable copy of the protected machine, its applications and its data.
Global Deduplication and Compression - Inline deduplication and compression eliminates redundant data to save storage costs while optimizing backups for WAN replication. FIPS certification - Ensure enterpriseclass security compliance with FIPS 1401 and 140-2 cyptographic modules.
Pricing Notes:
All Prices are Inclusive of GST
Pricing and product availability subject to change without notice.