Dell Compellent Software Suite

Automated, integrated enterprise storage software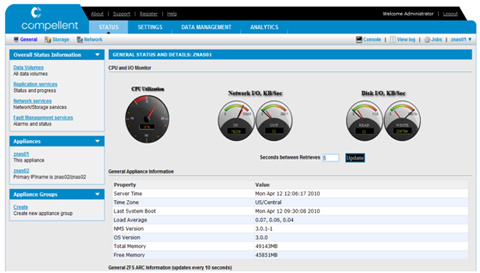 Sorry, this product is no longer available, Please contact usfor a replacement.
Overview:
Data has become the fuel that drives business acceleration, making organizations today extremely reliant on data storage. And that makes the storage decision strategic, far-reaching and full of risk. Limited-point products, dead-end growth paths and bolt-on software applications create rigid boundaries around data storage. With an integrated software feature set, Dell Compellent enables enterprises of all sizes to move beyond simply storing data to actively, intelligently managing data. Powerful storage software with built-in automation optimizes the provisioning, placement and protection of data throughout its lifecycle.
Dynamic Capacity™
Dell Compellent Thin Provisioning delivers the highest enterprise storage utilization possible by eliminating pre-allocated but unused capacity. The software, Dynamic Capacity, completely separates allocation from utilization, enabling users to provision any size volume upfront yet only consume disk space when data is written. Thin Write technology assesses the incoming payload and designates capacity for each write on demand, leaving unused disk space in the storage pool for other servers and applications.
How to Optimize Disk Utilization with Dynamic Capacity
Eliminate the pre-allocated but unused disk capacity inherent to traditional network storage systems
Expand volumes online and add capacity on the fly to accommodate change without disruption or downtime
Convert legacy volumes to virtual volumes when introducing them to the storage pool using Thin Import
Use Free Space Recovery to reclaim disk space after files are deleted in Windows® environments
Automate storage consumption monitoring and trend analysis with capacity threshold alerts and history reports
Reduce the capacity needed to store existing data up to 40% when migrating to Dell Compellent
Data Progression™
Dell Compellent Fluid Data storage dynamically moves enterprise data to the optimal storage tier based on actual use. The most active blocks reside on high-performance SSD, Fibre Channel or SAS drives, while infrequently accessed data migrates to lower-cost, high-capacity SAS drives. The result is network storage that remains in tune with application needs, with overall storage costs cut by up to 80%.
How to Optimize Enterprise Storage with Data Progression
Automated tiering eliminates manual data classification and migration while lowering drive counts and power/cooling costs
Write active blocks of data to Tier 1 storage with performance-optimized RAID levels such as RAID 10
Automatically migrate inactive blocks of data to lower-tier storage with higher-overhead, high-protection RAID 5 or 6
Mix SSD, FC and SAS drives in the same system, and SAS drives with varied rotational speeds in the same enclosure
Deploy SSDs to maximize write performance and data availability for mission-critical applications
Automatically restripe volume data across all drives when adding capacity on demand
Data Instant Replay™
Dell Compellent network storage delivers continuous data protection using space-efficient snapshots called Replays. With Data Instant Replay, once a base snapshot of a volume is taken, only incremental changes in data need to be captured. This not only saves disk space, but speeds local recovery of lost or deleted files. A high number of Replays can be scheduled in short intervals for recovery to a previously known state.
How to Protect Data Efficiently with Data Instant Replay
Create frequent Replays (snapshots) using minimal capacity and system overhead
Recover most volumes to a server in less than 10 seconds for high availability
Leverage Consistency Group technology to ensure integrity of data spanning multiple volumes
Roll back to any previously known state using a simple point-and-click interface
Remote Instant Replay™
Remote Instant Replay leverages space-efficient snapshots between local and remote sites for cost-effective disaster recovery and business continuity. Following initial site synchronization, only incremental changes in enterprise data need to be replicated, minimizing capacity requirements and speeding recovery. Known as Thin Replication, this unique approach enables network storage administrators to choose between Fibre Channel or native IP connectivity for data transfer.
How to Replicate Cost-Effectively with Instant Replays
Replicate data with less bandwidth and disk capacity using space-efficient Replays (snapshots)
Use Portable Volume, a preconfigured set of external hard drives, to sync sites in days instead of months
Choose traditional Fibre Channel or cost-effective IP-based transfer links for remote replication
Optimize network utilization and increase replication performance with bandwidth simulation and shaping
Eliminate the need for identical system configurations at local and remote sites with Thin Replication
Implement a robust disaster recovery solution in six clicks using a step-by-step setup wizard
Live Volume
Live Volume acts as a storage hypervisor, actively mapping one volume to two Dell Compellent arrays at the same time. This allows organizations to shift volumes between systems for high availability and continuous access to data. With Live Volume, data is not physically bound to any particular array or data center. Instead, all volumes can be accessed and shared from multiple locations, making Live Volume a key enabler for virtualization and the cloud.
The Live Volume Advantage
Fully integrated platform feature that supports Thin Provisioning and Automated Tiered Storage
Fraction of the cost of other solutions, with no additional hardware, server agents or costly appliances required
Works with multiple hypervisors, including VMware vSphere, Microsoft Hyper-V and Citrix XenServer
Imposes no limit on the number of volumes that can be created, shared, deleted or updated
Allows organizations to scale out cost effectively, laying the foundation for a grid of arrays operating as one
Key Benefits:
Built from the ground up to manage data differently
Dell Compellent Storage Center leverages a patented architecture that changes the way you manage data. Empowered by real-time system intelligence about each block, data is moved where it's needed, when it's needed, based on actual use and performance needs. This granular, real-time system intelligence also enables Storage Center to virtualize the storage infrastructure-bringing new efficiency, agility and resiliency to enterprise storage by creating a pool of high-performance storage shared by all hosts.
Deliver better performance with less hardware
Dell Compellent virtualizes storage at the drive level, accelerating data access by spreading read/write operations across all drives so multiple requests are processed in parallel. You can create high performance, highly-efficient virtual volumes in seconds without allocating drives to specific servers, without complicated capacity planning and without performance tuning. Remove the limitations of physical drives and dynamically change and scale your virtualized pool without disruption or downtime.
Drive down the total cost of storage
With patented tiering technology, Dell Compellent Data Progression™ automatically classifi es and migrates data to the optimum storage tier and RAID level based on actual usage. All new data is written to tier 1, RAID 10, and snapshots cascade to the lowest available tier within 24 hours. Then, the most active blocks of data remain on high-performance SSD, FC or SAS drives, while less active blocks automatically move to lower-cost, high-capacity SAS or SATA drives. The result is storage that is always in tune with application needs-and an overall cost per GB that decreases as you grow.
Maximize storage utilization
Built into every Dell Compellent system, Dynamic Capacity™ thin provisions volumes for ultra-efficient storage utilization. Our advanced thin provisioning completely separates storage allocation from utilization, enabling users to allocate any size volume upfront, yet only consume physical capacity when data is written. You can even reclaim capacity that is no longer in use by applications, automatically reduce the space needed for virtual OS volumes and convert traditional volumes on existing storage to thin-provisioned capacity.
Protect data against downtime and disaster
With Data Instant Replay™, you can take continuous space-efficient snapshots to speed the local recovery of lost or deleted files. Once an initial snapshot of a volume is taken, only incremental changes in data need to be captured. These readable and writable Replays are automatically stored on lower cost drives and can be used to recover any size volume to any server in less than 10 seconds.
Remote Instant Replay™ leverages these Replays between local and remote sites to deliver a cost-effective replication solution. After initial site synchronization, only incremental changes in data are replicated on an ongoing basis-cutting hardware, bandwidth and administration costs. You can replicate over Fibre Channel or native IP, depending on your unique business requirements.
Provide dynamic business continuity
Live Volume enables organizations to move storage on demand between Dell Compellent arrays to deliver high availability and continuous access to data. All migration occurs transparently while applications remain online. And the functionality is fully integrated, eliminating the need for additional hardware or server-side agents. Live Volume supports any virtualized server environment and complements leading virtual machine (VM) movement engines.
Technical Specifications:
Compellent Software Suite Specifications
Dynamic Capacity
Allocate on Write Technology
Yes
Pre-allocation Required
No
Defi ne Volumes Larger Than Physical Storage
Yes
Automated Page-Based Allocation
Yes
Allocation Page Size
2MB by default, with option of 512KB or 4MB
Dynamic RAID Level Conversion
Yes
Storage Added Online Without Disruption
Yes
Drive Operations on Written Data Only (including Copy, Replication and Rebuilds)
Yes
User-defi ned Thresholds for Capacity Utilization
Email, Pager, Alerts, Phone
Data Progression
Storage Tiers Defi ned by
Drive Type, RAID Level, Rotational Speed
RAID Level Support
RAID 0, 5, 6 and 10
Drive Support
Fibre Channel, Solid State Drives, SAS, SATA
Drive Intermixing
Yes, any combination in shared pool (across tiers and RAID levels)
Volumes Stored Across Multiple RAID Levels and Tiers
Yes
Snapshots Migrated
Yes, automatic
Additional Software Required for Data Classifi cation and Movement
None
Data Instant Replay | Remote Instant Replay
Automated Replay Creation and Scheduling
Yes
Pre-allocation Required
No
Readable and Writeable Replays
Yes
Copy-on-write Technology
No, Pointers to Data only
Volume Clone Required for Recovery
No
Automated Coalescence of Expired Replays
Yes
Replay Scheduling Frequency
Once, Minutes, Hours, Days, Weeks, Months
Multiple Replay Schedules for Volumes
Yes
Volume Recovery Using Only Written Data
Yes
Replication Topology Options
Point-to-Point, Point-to-Multipoint, Peer-to-Peer
Asynchronous Replication Support
Yes
Replication Interface
Fibre Channel, iSCSI
Replication Link Speed
T1 and above
Replication Link Bandwidth Estimation & Optimization
Yes
Replay De-duplication
Yes
Independent Replay Schedules per location
Yes
Validate Volume Recovery While Links are Operational
Yes
Volume Recovery to any Host
Yes
Integration with Microsoft VSS and VMware SRM
Yes
Live Volume
Asynchronous Replication
Yes
Number of Volumes Supported: Live Volume Size Limit
50: 150TB
Managed through Enterprise Manager
Yes
Migrate Volumes Non-Disruptively
Yes
Distance Limitation
None (application dependant)
PowerShell Support
Yes
Supports Clustered Environments: MPIO
Yes
Primary Site Auto-Migration
Yes
Documentation:
Pricing Notes:
All Prices are Inclusive of GST
Pricing and product availability subject to change without notice.