Dell Compellent Live Volume

Beyond data recovery into business continuity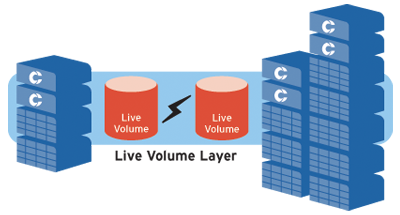 Overview:
With Compellent Live Volume, organizations can continuously optimize storage for high availability and flexibility. Administrators can move enterprise data when and where it's needed on demand, based on ever-changing business conditions and application requirements. With Live Volume, storage volumes are no longer tied to a particular array or data center. Instead, data can be accessed, moved and shared from multiple locations. Live Volume supports any virtualized server environment and complements leading virtual machine (VM) movement engines.
Dynamic Storage Migration
For years, Compellent has intelligently moved data within our array to increase efficiency and performance. Now, we are automatically moving volumes between arrays to deliver high availability and continuous access to data.
Live Volume acts as a storage hypervisor between two Compellent arrays, allowing organizations to transparently move volumes between arrays on demand. Since Live Volume is fully integrated into the Fluid Data storage platform, there is no need for an external device, which only adds complexity and cost. There is also no limit to the number, creation, deletion or updating of shared volumes, and the number of Live Volume pairings is only limited by bandwidth. Plus, Compellent arrays do not require identical configurations to use Live Volume.
Live Volume complements Compellent Remote Instant Replay, which provides ongoing replication between primary and remote sites. Also, Thin Provisioning is automatically applied to all shared volumes for optimum efficiency.
Live Volume is a key enabling technology for true business continuity at a fraction of the cost of other data migration solutions, which often require additional hardware, costly appliances and server-side agents.
Live Volume automatically migrates storage when virtual applications are moved, allows administrators to preemptively and non-disruptively move storage for maintenance and planned outages, and delivers ondemand load balancing based on actual storage I/O load.
The Live Volume Advantage
Fully integrated platform feature that supports Thin Provisioning and Automated Tiered Storage
Fraction of the cost of other solutions, with no additional hardware, server agents or costly appliances required
Works with multiple hypervisors, including VMware vSphere, Microsoft Hyper-V and Citrix XenServer
Imposes no limit on the number of volumes that can be created, shared, deleted or updated
Allows organizations to scale out cost effectively, laying the foundation for a grid of arrays operating as one
Key Benefits:
Virtualized storage follows virtualized servers
Live Volume automatically detects when a VM movement engine like VMware vMotion moves a VM from one physical server to another. Immediately after the detection of the VM move, Live Volume flags the replicated secondary volume as the new primary volume and automatically reverses replication direction. Should the VM move back to its original server, Live Volume will automatically reverse the direction of replication again and flag the original primary volume back to primary status.
Live Volume supports any virtualized server environment, including VMware vSphere, Microsoft Hyper-V and Citrix XenServer.
Compellent supports Live Volume across multiple connectivity protocols, including Fibre Channel, iSCSI and Fibre Channel over Ethernet (FCoE). And all shared volumes can be managed through a single pane of glass using Compellent Enterprise Manager software.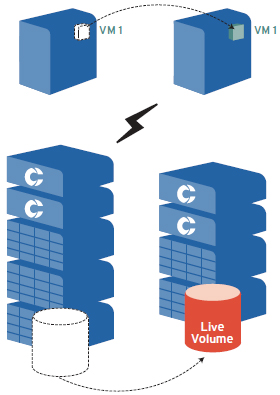 On-Demand workload distribution
Live Volume enables users to eliminate hot spots between arrays and offload I/O burdens from one storage system to another - without disruption and while applications remain online. Workload is transparently distributed between arrays, automatically balancing I/O traffi c and storage utilization for increased application performance with low latency. Applications continue to operate as usual during the volume migration process, and workload is transferred from one system to another without impacting access to data. All of this is done without any impact to server resources, to deliver the best possible data center performance.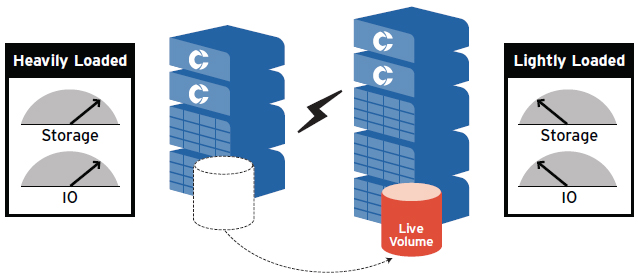 Zero-Downtime maintenance
With Live Volume, when anticipated power outages or impending natural disasters threaten to bring systems down, administrators can simply move mission-critical volumes from the array that will be affected to another array located at a separate regional location.
All data is migrated between the two sites non-disruptively while both systems remain online, enabling continuous operation of all applications. And following the event, administrators can reverse the live migration process to resume normal operations.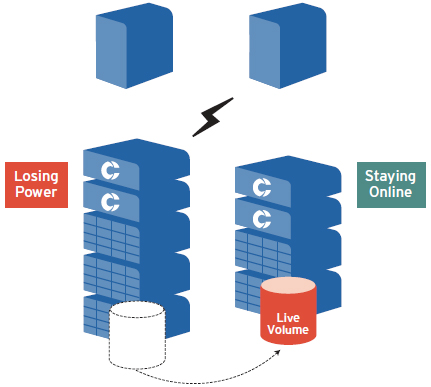 Non-Disruptive system migration
Live Volume provides administrators with a way to perform routine system maintenance, swap out hardware components and migrate data to an all-new system while applications remain online.
To update firmware or swap out a component - for example, a new 6 Gb SAS enclosure - users simply live-migrate the volumes on the hardware to be upgraded temporarily to another array within the same campus. Once the maintenance is complete, that volume can be moved back to its original location.
Migrating data to an all-new array is just as easy. Live Volume moves the volumes from the existing array to the new array transparently while application continues to run as usual, leaving the former array available for use elsewhere.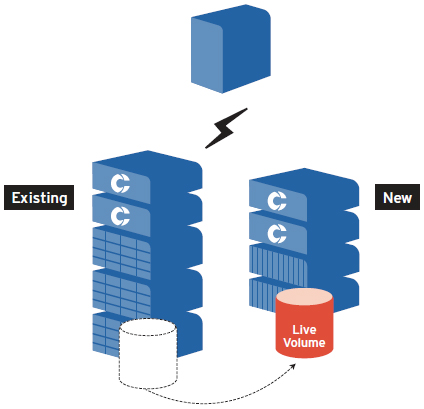 Enterprise storage that scales to meet every possibility
Compellent Fluid Data storage always puts the right data in the right place, at the right time and at the right cost. Live Volume leverages this Fluid Data architecture to deliver the simple, flexible, fluid movement of data within and between systems to optimize price, performance and protection.
Documentation: