ChangeBASE

The fastest, easiest way to ensure application readiness for Windows platforms, web browsers and virtualized environments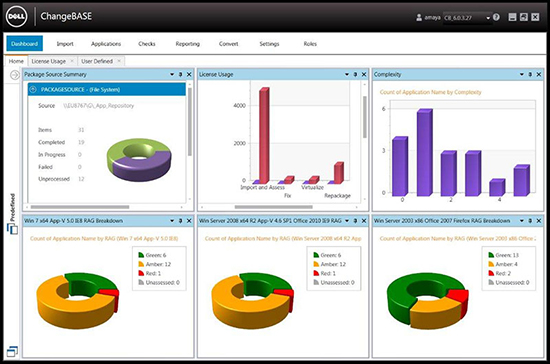 Sorry, this product is no longer available, Please contact usfor a replacement.
Overview:
The IT infrastructure is rapidly evolving to accommodate an increasingly mobile workforce and a wave of new devices, form factors and platforms. Your end users also expect instant access to the applications they need to be productive. But when it's time to upgrade, apply patches and service packs, or adopt new deployment techniques like virtualization, the challenge of testing and fixing all those applications to avoid risks can be enormous. In fact, application compatibility issues present the biggest hurdle to achieving timely and complete migrations to Windows 7/8, Windows Server 2008/2012, Internet Explorer 8-10, Mozilla Firefox, and virtual desktop and application environments like Microsoft App-V and VMware ThinApp. Even when you discover issues, manual remediation can take hours or days for each application, require highly skilled, costly IT staff - and still be prone to human error.
Now you can practically eliminate application migration risk with the fastest possible compatibility assessments across your desktop, server, virtual and web application estate. ChangeBASE automates testing, remediation, and packaging as well as virtualization conversion to accelerate application readiness.
Rely on ChangeBASE to find and fix compatibility issues in minutes, and get the reports you need to better manage your application's lifecycle.
Avoiding user disruption during application upgrades is essential. Application compatibility failures are time-consuming, expensive, and complex. Whether you're migrating to Windows 7, applying monthly Microsoft Patch Tuesday updates, or adopting new application virtualization technologies like App-V, ThinApp, XenApp or SWV, ensuring application compatibility is the biggest hurdle to success.
ChangeBASE reduces application migration risk and ensures application readiness. You can automate application compatibility testing, application remediation, application packaging, and application virtualization to accelerate patch updates or deployments to new platforms.
ChangeBASE provides a wide range of reports that make it easy to find and fix compatibility issues in minutes, package them up, and get your applications up and running quickly with minimal manual effort. This way you can reduce the time and risk of ongoing system management.
Features:
Application discovery and rationalization - Quickly identify, manage, and track software assets for a complete application inventory
Automated bulk importing - Import applications directly from Microsoft System Center Configuration Manager (SCCM)
Application compatibility testing - Identify compatibility issues before deploying an application to the target environment.
Application readiness dashboards - Gain insight into application compatibility projects with online dashboards and reports.
Bulk auto-fix compatibility issues - Automate remediation of application compatibility issues across desktop, server, virtual, and web applications.
Windows OS patch impact assessment - Reduce security risks and speed deployment times by completing patch impact assessments within minutes.
Customized packaging checks - Test and automatically apply fixes to ensure compliance with in-house and packaging (MSI) standards.
Application packaging - Automate conversion of any application format to standardized Windows Installer (MSI) packages.
Automated application virtualization conversion - Automate conversion of packages to App-V, ThinApp, XenApp, and SWV virtualized formats.
MSI editing - Reduce the need for expensive third-party application packaging tools with built-in MSI editing capabilities.
Microsoft Office dependency testing - Identify and highlight potential issues with applications integrated with Microsoft Office 2007-2010.
Browser compatibility - Identify web site and web application compatibility issues with Internet Explorer 8/9/10 and Firefox.
Compatibility
ChangeBASE singularly automates compatibility testing across multiple platforms and technologies in a single assessment exercise. There is no need to install applications to test. ChangeBASE automatically imports any application file format, converts it to a standardized Windows Installer format (MSI), then does a comprehensive assessment. ChangeBASE also assesses an organization's diverse mix of technologies.
Microsoft Office dependency assessment
ChangeBASE identifies Office-dependant applications that may fail after a migration.
Application virtualization assessment
ChangeBASE allows you to compare compatibility ratings for virtual application solutions to see which ones are the best fit for the organization.
Virtual desktop and RDS assessment
ChangeBASE assesses compatibility for virtual, server hosted and fat clients in one pass.
Browser assessment
ChangeBASE detects web application compatibility issues with Windows 7/8 and IE8-10 by checking files and pages that a user might visit.
Auto-fix of remediation issues
ChangeBASE applies auto-fixes on multiple applications, accelerating application delivery.
Ongoing application readiness
Monthly Windows patch readiness
ChangeBASE integrates the latest Windows updates and patches through periodic automated evaluations, to strengthen security and reduce deployment times.
Automated application packaging
ChangeBASE packaging/virtualization delivery tests for in-house and packaging (MSI) standards issues, and applies automated fixes to ensure compliance. It also develops and customizes QA checks and related remedies for significant time and cost savings. ChangeBASE converts all application formats into Windows installer packages, then allows you to edit them with a built-in tool to create production-ready MSIs.
Automated application virtualization package creation
ChangeBASE automatically virtualizes applications into the format of your choice, saving time and reducing errors.
Reporting
ChangeBASE dashboards present graphs, charts, calculators, project status and next-step wizards.
Application Readiness:
5 Steps to Automated Application Readiness
Discovery
Automatically Discover and catalogue all applications that are inyour environment. Both managed and rogue applications
Plan & Rationalize
What applications are licensed, Who's using what and how frequent they are used. Remove old versions, duplicates and non-vendor supported apps
Assess Compatibility
Test all of your applications concurrently for suitability for deployment on new Desktop, Virtual, Office and Browser platforms. Gain incredible insight into problem apps, finite detail of each individual issue and step by step guidance for how to remediate each issue
Remediate & Package
Remediate incompatibilities on the fly inside ChangeBASE's automated workflow. Providing good to go applications ready for deployment on multiple new platforms. Leverage automated sequencing to convert fat applications into virtual packages. Edit applications with the ChangeBASE repackaging tool
Business As Usual
React to change within seconds. Whether it be monthly Microsoft patches, or application updates, even platform updates. ChangeBASE becomes the core of your application lifecycle management workflow to proactively manage and be flexible to an ever changing workspace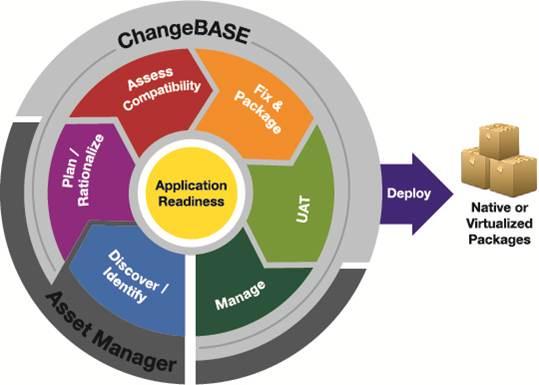 System Requirements:
Supported Compatibility Checks
OS Compatibility
Windows XP SP2 or later
Windows Vista SP2
Windows 7 32- and 64- bit
Windows 8
Windows Server 2003, 2008 R2, 2012
Microsoft Office
Microsoft Office 2007-2010
Application Virtualization Compatibility
Microsoft App-V
VMware ThinApp
Citrix XenDesktop
Symantec SWV
Virtual Desktop Compatibility
Citrix XenApp
Microsoft RDS
Virtual Desktop Hosting
VMWare Workstation
VMWare Server
Microsoft Hyper-V
Browser Compatibility
Firefox
Internet Explorer 8, 9, 10
Recommended Minimum Server
Hardware / Software Requirements
Windows Vista SP2
Windows 7
Windows 8
Windows 2003 Server (including R2)
Windows 2008 Server (including R2)
Windows 2012 Server
4 gigabyte (GB) RAM
2.5 GHz dual core Processor
32- or 64- bit server
50 GB Hard disk space - 1024x768 display
8GB Memory
Prerequisites
Microsoft .NET Framework 3.5 SP1 or later
Microsoft Log Parser 2.2
VMware Workstation 7.1.x or VMware Server 2.x
Internet connectivity is highly recommended
Client/Server Installation
Microsoft SQL Server 2008 (including R2), Express, Standard or Enterprise
Screenshots:
| | | |
| --- | --- | --- |
| The new role-centric ChangeBASE dashboard is designed to be customizable, enabling you to drag and drop 'widgets' on the dashboard to show the most relevant view of application information. | User-defined widgets can also be created to tailor the dashboard to each organization. | ChangeBASE runs more than 250,000 tests on your applications. Many of these have automated fixes available. All checks will be run against user-defined target platforms when needed. |
| Once you've found your application compatibility issues, ChangeBASE can automatically resolve the vast majority of these issues. This substantially accelerates application delivery. | We've expanded the reporting capability to allow complete customization via the new ChangeBASE Report Designer. | Reports detail the compatibility of a group of applications with your selected target platforms. These reports can be used either before fixes are applied to build a business case, or after issues have been fixed to document and communicate the results of the project. |
| Reports can be viewed via the Web and exported into all major file types. The reports can also show high-level information using charts. | | |